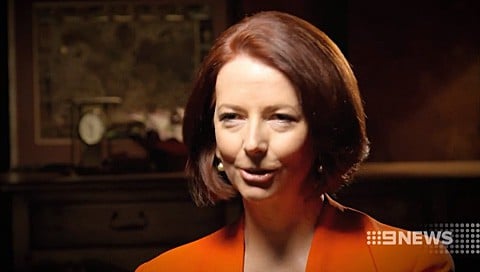 Former Australian Prime Minister Julia Gillard, who opposed same-sex marriage during her tenure, tells Channel 9 News this week in an interview ahead of the publication of a new memoir that she has accepted it will be a reality, ABC News reports:
She told Channel Nine she now accepted things would change.
"I've got what may be in the modern age a kind of old-fashioned, feminist view about, can we take the traditional institution of marriage and stretch it? Or do you create some other way of solemnising relationships and recognising them as of worth and status?" she said.
"When I was a young feminist I would've said overwhelmingly the gay community was on that track too, but things have changed.
"I accept the course of human history now is that we are going to see same-sex marriage here and in, you know, most parts of the developed world."
Though she was pressured heavily while in office and may even have a "valuable lifetime commitment" to a gay man, Gillard was steadfast in her opposition to marriage equality.
Australia's current Prime Minister Tony Abbott also opposes gay marriage.