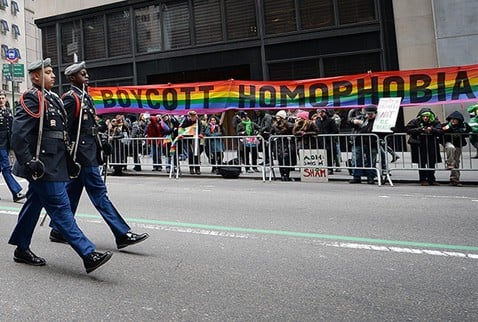 (image via twitter nowthisnews)
New York City's St. Patrick's Day parade will for the first time allow an openly gay organization to participate "under its own banner", according to The New York Times. Previously, groups that identified as gay have been banned from the parade, meaning gay individuals were allowed to march but only with other groups and not with banners that were LGBT-identified. That will change next March, when OUT@Universal becomes the first gay group to march in the parade.:
It's unclear how the group was chosen: whether OUT@NBCUniversal, which is described on its website as "the affinity group for LGBT & Straight Ally employees at NBCUniversal," was invited by the organizers or applied. Parade directors voted unanimously to include the group, the statement said.
Other gay groups can apply to march in future years, spokesman Bill O'Reilly said. 
NBCUniversal broadcasts the parade annually. As for the decision behind the move, the parade committee commented that the "change of tone and expanded inclusiveness is a gesture of goodwill to the LGBT community in our continuing effort to keep the parade above politics":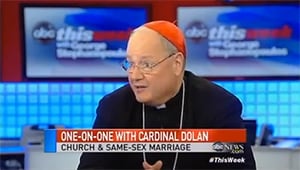 The statement said the parade was "remaining loyal to church teachings," and O'Reilly said Cardinal Timothy Dolan, who is to be the parade's grand marshal next year, was "very supportive" of the change.
Dolan said last year he supported the participation of gay people.
"I know that there are thousands and thousands of gay people marching in this parade," he said. "And I'm glad they are."
You'll recall Dolan has a history of making disparaging remarks against the gay community.
Previously, New York's St. Patrick's Day Parade has become a political imbroglio because of the ban on gay groups. Last year, New York City Mayor Bill De Blasio refused to march in the parade because of the parade's exclusionary policy. Irish beer-maker Guinness also dropped its' sponsorship of the parade last year after a boycott of the stout was threatened by several of New York's prominent gay bars.