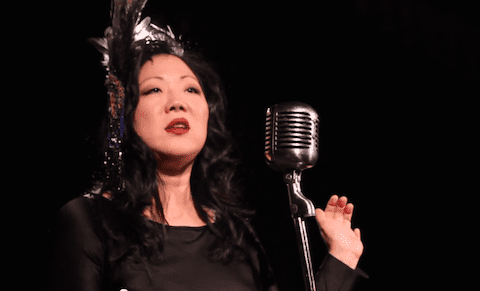 While the world lost one of the most brazen (and divisive) comedians this week, the legacy Joan Rivers left behind has inspired a generation of equally outspoken funny women. Many of them are considered gay icons in their own right, including one of our previous picks, Kathy Griffin. In addition to the D-list diva, comics like Sarah Silverman and Chelsea Handler carry on the tradition of risky, outlandish humor.
While Handler and Silverman have sizable gay followings in their own right, they can't hold a candle to Margaret Cho. The Korean-American comedian has long embraced the LGBT community, and it's embraced her right back.
"Once, this beautiful gay boy told me that at his new school he felt bullied and alone and too scared to come out to anyone, fearing he was what everyone already suspected and taunted and teased him for," she wrote on xojane last year. "He put my picture on his binder, and held it in front of him as he walked down the frightening lonely halls and he knew that if anyone commented favorably on my presence there, that he was safe with them."
Cho's not only an advocate of the community, she considers herself part of it as well. Her own interpretation of her sexuality is much more clear than simply labeling her as bisexual. She's been married to artist Al Ridenour since 2003, but claims "I don't like to say I'm gay or I'm straight. I'm just slutty." She further elaborated to the New York Times in 2009: "I refer to myself as gay, but I am married to a man. Of course, I've had relationships with women, but my politics are more queer than my lifestyle."
See some more of our favorite Cho clips and quips, AFTER THE JUMP … (note: coarse language ahead)
Cho starred in a short-lived sitcom in the early '90s called All-American Girl. It was only the second sitcom to focus on an East Asian family (after 1976's Mr. T and Tina). The show was something of a disaster. Cho faced pressure from network executives to lose weight and, at different points, act "more Asian" and "less Asian." The series took a major toll on Cho, driving her to extreme weight loss (resulting in serious kidney failure) and substance abuse. The show itself was panned for its poor writing and frequent changes in concept. Though not a high point in her career, All-American Girl (and its related hardships) forged Cho into the kickass comic she's become today.
In her stand-up routines, Cho often talks about LGBT issues. She told Autostraddle that her relationship with the gay community began at a very young age. "Oh, I was exposed very early because my parents owned a bookstore in a gay neighborhood in San Francisco, so all of the people that I was in contact with when I was a very young child, maybe as early as 6 or 7 years old, were gay. I mean, it was not just one person, everybody I knew was gay."
Beyond television and stand-up shows, Cho is also a singer-songwriter. Her album Cho Dependent features respected musicians like The New Pornographers' A.C. Newman, Andrew Bird and Ani DiFranco. The resulting tunes are better than they needed to be to support the humorous lyrics. Check out her track with Tegan and Sara, above.
She might not be a true triple threat, but the actress-singer did try some dancing on Dancing With the Stars in 2010. She was eliminated in the third episode, but not before performing a routine dedicated to gay pride and causing a bit of controversy with fellow contestant Bristol Palin.
She's had memorable turns on the classic Sex and the City episode "The Real Me" and as Kim Jong-Il and Kim Jong-Un on 30 Rock, but if you're looking to catch her on the small-screen these days, you'll find her on Lifetime's Drop Dead Diva. How has she adjusted to shooting the series in Peachtree City, Georgia? "I get in fights with people," she revealed to Michael Musto in 2010. "They say, 'I don't support gay marriage because it goes against my religious belief.' I say, 'Well, f–k you, then.' That's my answer to everything. I'm sick of explaining to people why we deserve equality. I jump ahead to the 'F–k you, then' argument."
What are your favorite Margaret Cho moments?