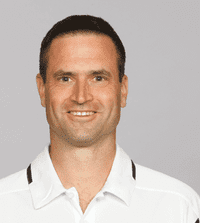 Minnesota Vikings special teams coach Mike Priefer is being reinstated today after sitting out two games of his three game suspension. Priefer's suspension came earlier this year following accusations from former Vikings kicker Chris Kluwe claiming that Priefer was active and central to the promotion of locker room homophobia and general hostility.
"Mike Priefer also said on multiple occasions that I would wind up burning in hell with the gays, and that the only truth was Jesus Christ and the Bible." Kluwe wrote in an open letter Deadspin published in January. "He said all this in a semi-joking tone, and I responded in kind, as I felt a yelling match with my coach over human rights would greatly diminish my chances of remaining employed."
While Priefer denied the accusations against him, a third party investigation into the matter corroborated at least one of Kluwe's claims of homophobic exchanges with priefer. Kluwe, who claimed that he was let go from the Vikings because of his support of the LGBT community, recently reached a settlement with the Minnesota team after threatening to sue.
"I regret what has occurred and what I said." Priefer said in a press conference following his suspension. "I am extremely sorry but I will learn from this situation and will work on educating others to create more tolerance and respect."