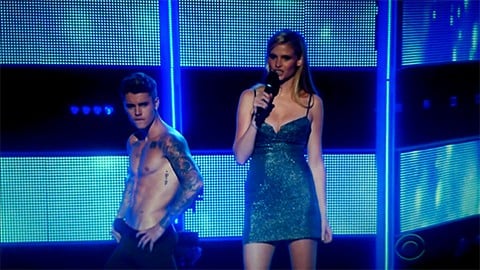 Drag-racer and self-proclaimed 'serious artist' Justin Bieber made an appearance last night at the Fashion Rocks event in NYC, taking place in conjunction with New York Fashion Week. Almost as soon as Bieber hit the stage he was greeted by loud boos from the audience. He then continued with what was clearly a pre-planned bit where he stripped down to his undies, or more specifically, his 'Calvins'. Mashable reports:
During the concert, the singer presented alongside supermodel Lara Stone. He began his sketch by saying, barely audible over the boos, "So, uh, I actually don't feel comfortable unless I'm in my Calvins, so … is that cool?"
But Bieber, ever the professional, worked through the negativity. He later tweeted and posted a Vine about the moment, saying he "killed 'em with kindness."
Watch a video of Bieber's strip-down, AFTER THE JUMP…