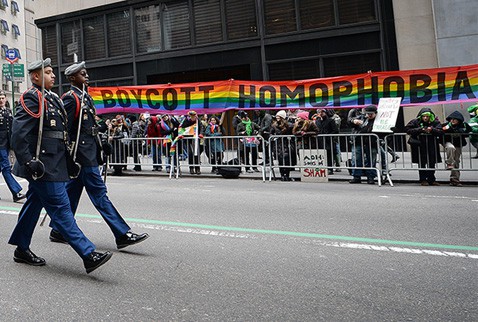 (image via twitter nowthisnews)
Mixed reactions are coming in from LGBT organizations in response to yesterday's news that New York City's St. Patrick's Day parade would be allowing an openly gay organization to participate "under its own banner" for the first time next year – with many groups saying that while the decision is a step in the right direction, it does not go far enough. 
Said Empire State Pride Agenda's Executive Director Nathan M. Schaefer:
"The news that the organizers of the St. Patrick's Day Parade will allow one LGBT group – OUT at NBC Universal – to march under its own banner for the first time strikes us as disappointing and self-serving. While this development is long overdue, inviting one group to march at the exclusion of all others and continuing to refer to our vibrant community as "gay" when it is in fact lesbian, gay, bisexual and transgender, is a far stretch from the full inclusion we deserve.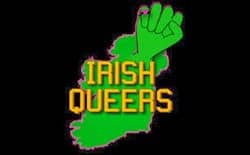 Statement from LGBT group Irish Queers:
This is a deal that was made behind closed doors between parade organizers and one of their last remaining sponsors, NBC. It allows NBC's gay employees to march, but embarrassingly has not ended the exclusion of Irish LGBT groups. The parade organizers have said, astoundingly, that we "can apply" in years to come.
To the extent that parade organizers have changed their tune, it's the result of Irish Queers' many years of organizing, which led to last year's refusal to march by Council Speaker Mark-Viverito and others, and Mayor de Blasio,
the withdrawal of major corporate sponsors
and escalating criticism of uniformed city workers marching in the Parade.
We welcome this small victory, but our call remains the same — the parade must be open to Irish LGBT groups, not "in subsequent years" but now. (We remember too well how parade organizers used fake waiting lists to bury our applications before.)
"It's about time," said GLAAD President & CEO Sarah Kate Ellis. "Discrimination has no place on America's streets, least of all on Fifth Avenue. As an Irish-Catholic American, I look forward to a fully inclusive St. Patrick's Day Parade that I can share with my wife and children, just as my own parents shared with me. Until then, parade organizers must be held accountable to ending this ban once and for all."​ 
According to The Associated Press, the parade's committee is
claiming
that the NBC group's application to participate in next year's parade was the only one from a gay group received.
De Blasio said Wednesday that the inclusion of OUT@NBCUniversal was "a step forward," but he would not commit to next year's parade until he knows more.
Guinness' parent company said, "We are pleased to see that the various parties are making progress on this issue." It said it was open to talking with the organizers about supporting the 2015 parade.