BY OCCUPY THE DISCO / RU BHATT 
The 2 Bears, comprised of Hot Chip's Joe Goddard and Raphael 'Raf Daddy' Rundell, have just released 'Get Out,' the opening track from their sophomore album, The Night is Young.
The track starts slowly, with a cadence that wouldn't feel out of place on a Hot Chip Album, but quickly builds and takes the listener on a journey to the dance floor. The track sets the stage nicely for the album's lead single, 'Angel (Touch Me),' which has had me grooving for several months now. The Night is Young releases on October 13th via Southern Fried Records. 
Check out more tracks  AFTER THE JUMP…
Munich's Justin Faust will extend your summer just a little longer with the tropical disco vibe on his latest release, 'Spellbound.'
With 'Simple Love,' Julio Bashmore showcases his mastery of the ethereal atmosphere by layering J'Danna's minimalist between haunting synths and a pulsing bassline. 
Hot Since 82 takes Black Box's '90s hit, 'Everybody Everybody,' deeper underground with his brilliant new remix. The track's lighter vocal moments are brought to greater heights thanks to Hot Since 82's dramatic flair.  Speaking of Black Box, check out this great article on vocalist/gay icon Martha Wash's life in this week's Rolling Stone.
Marc Kinchen (MK) brings the thump with his latest remix of Kant's 'Ey Yo,' which features a vocal sample from Busta Rhymes' 'Dangerous.' The track's big room appeal and punchy synths give it an irresistible, "booty-poppin," appeal.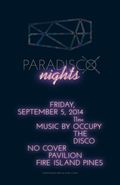 WEEKEND CALENDAR 
This Friday we return to Fire Island's hallowed Pavilion Nightclub for another edition of Paradisco Nights. As always, there's no cover and no fuss; just great music and great people. 
OCCUPY THE DISCO (OXD) curates and recommends music events to the gay community in NYC—in an effort to move the focus of the nightlife scene beyond the promoter and venue and to the music itself. OXD's goal is to educate, entertain, engage and empower the gay audience to reclaim their ability to question and experience the unknown. The OXD Mirror will serve to showcase tunes that are definitely off-the-beaten-path but rightfully deserve the attention of the gay ear. 
This week's post was written and curated by Ru Bhatt. Check out more of his music picks on his podcast, The Ru-Mix and on Made In Brazil. 
Be sure to check out these tracks and more on our Spotify Playlist. For more information on OXD, check out our website and accompanying blog at www.occupythedisco.com, like us on Facebook, or follow us on Twitter: @OccupyTheDisco.