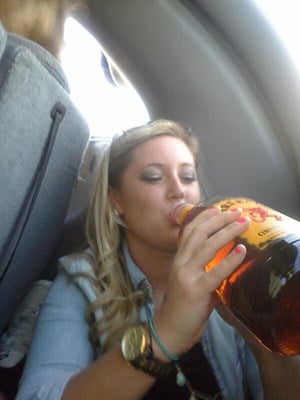 Yesterday, Philadelphia police announced that arrest warrants had been issued for three individuals accused of attacking a gay couple in City Center, Philadelphia on September 11. Those individuals, Philip Williams, 24, Kevin Harrigan, 26, and Kathryn Knott, 24, were charged with aggravated assault, simple assault, recklessly endangering another person and criminal conspiracy. As of this morning, all 3 had turned themselves in to police. 
Activist Scott Wooledge has looked into the social media history of one the assailants, Kathryn Knott, and found her Twitter account filled with messages that were homophobic, xenophobic, and showed a propensity for consuming alcohol. As Andy reported earlier, Knott is the daughter of Chalfont, Bucks County Police Chief Karl Knott. Neighbors of the Knotts were reportedly "not surprised" by the charges brought against Kathryn.
Take a look at Wooledge's post, "Meet #PhillyHateCrime Defendant Kathryn Knott", that provides highlights from Knott's Twitter account, AFTER THE JUMP…
Wooledge's online investigation into Knott's past underscores the pivotal role internet sleuthing has played in this case from the outset. After police released surveillance footage of the suspects, former Real Housewives of New Jersey castmember Gregory Bennett found a picture of the group involved in the gay bashing at dinner shortly before the attack. He then tweeted that photo out and Twitter user @FanSince09 was able to identify the restaurant in the background and eventually the suspects themselves using Facebook check-ins.