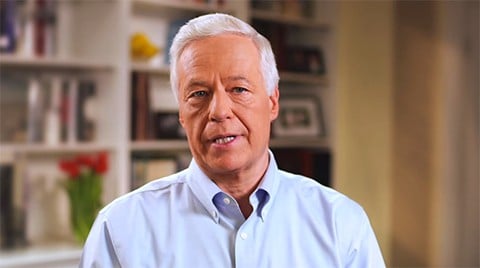 According to recent polling, openly gay Democratic congressman Michael Michaud leads the pack in the race for the governor's mansion in Maine. Michaud came out last November. At the time, Michaud commented that he wanted to avoid a "whisper campaign" that he claimed was being waged against him. With Michaud now so close to victory, perhaps the most surprising fact of Michaud's campaign has been, as Politico reports, that his success has come without the help of the nation's most prominent, powerful and moneyed LGBT donors:
For all the formal endorsements he has collected in his quest for the governorship, Michaud has been conspicuously shortchanged by many of the wealthiest and most influential gay donors in Democratic politics. Far from becoming a pathbreaking cause célèbre, he has plainly not enjoyed the overpowering financial support of the community that helped fuel President Barack Obama's reelection in 2012 and made Wisconsin Democrat Tammy Baldwin the first openly gay senator in history.
Dozens of prominent gay bundlers for Obama's campaign, including Evercore Partners' Charles Myers and Newsweb's Fred Eychaner, have given nothing to the Maine lawmaker, according to the most recent state finance records. Gay and straight Hollywood kingpins who have bankrolled marriage equality lawsuits, including producers Bruce Cohen and Rob Reiner, have kept their checkbooks closed.
Of the 32 activists and donors who sit on the board of the Human Rights Campaign, only one has donated to the man currently positioned to become America's only gay governor. Wealthy Colorado gay rights activist Tim Gill has maxed out to Michaud, but he is an exception that helps prove the rule.
Watch an interview Michaud gave to Rachel Maddow after coming out last year, AFTER THE JUMP…