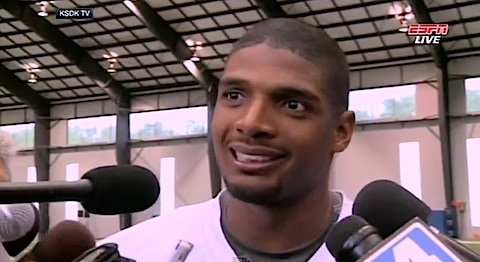 Michael Sam's prospects of becoming the first openly gay NFL player dimmed over the weekend – with Sam failing to be claimed by the other 31 NFL teams after being cut by the St. Louis Rams on Saturday. The Rams also passed on signing Sam onto their team's 10-man practice squad.
Outsports' Jim Buzinski reports on Sam's current situation:
With the Rams out of the picture for now, the number of teams possible to pick up Sam has dwindled. He plays defensive end in a 4-3 system, and that is used by only half the teams. Of that half, most teams are already set at defensive line, so Sam would need to find a team that has a need for his skills. […]
If Sam fails to be signed to a practice squad this week, he can work out on his own and be ready in case a team needs his services during the season. He can also explore playing in the Canadian Football League, which would at least get him playing time. Teams must announce practice squad acquisitions by 4 p.m. each day, and with the season starting in less than a week, it appears highly unlikely Sam will be on an NFL team this week.
Buzinski also pointed out that, according to NFL data site Pro Football Focus, Sam was rated the 44th best out of 100 defensive ends in a 4-3 scheme – making his inability to secure a practice squad spot puzzling. Previously, Outsports stated that if the other 31 NFL teams passed on Sam – who led the Rams in tackles and sacks in the four-game preseason – homophobia would be a contributing factor. 
Others, such as Buffalo Bills offensive lineman Eric Wood, placed blame on ESPN's continuous (and, at times, sensational) coverage of Sam's preseason. 
@RossTuckerNFL blame that on espn. No one wants the distraction

— Eric Wood (@EWood70) August 31, 2014
Last week, Rams' head coach Jeff Fisher praised Sams' preseason performance, saying "I believe he can play in this league." Sam himself was also pleased with his performance and said he was "very confident" he would make an NFL roster. 
Watch an ESPN segment with NFL analyst and former coach Herman Edwards sharing his advice for Sam, AFTER THE JUMP…