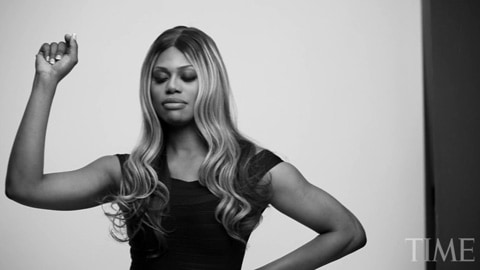 Between her role as Sofia in Netflix's Orange Is The New Black and producing a feature length, independent documentary about Cece McDonald, Laverne Cox has firmly established herself as a modern icon within the transgender community. To date, the bulk of Cox's work has highlighted the struggles facing adult trans women, but her latest project, Laverne Cox Presents: The T Word, focuses on trans youth.
"For many of us, the 'T' in LGBT means more than transgender—it also means truth," Cox said to New Now Next "The cast members in this documentary are fearlessly living their truths and in sharing their stories will send the message to other trans youth that it's okay to be who you are."
Earlier this year Cox accepted a Logo Trailblazers award on behalf of Orange Is The New Black and called on the LGB community to stand in solidarity with trans people dealing with discrimination. As a part of MTV's Look Different campaign, The show will chronicle the lives of seven youths from different backgrounds they explore what it means to be trans-identified in America today. The T-Word will premiere on both MTV and Logo TV on the on Friday, October 17 at 7PM ET, followed by a round table discussion between Cox and the documentary's seven cast members.
Watch footage of Laverne Cox's Logo Trailblazers award AFTER THE JUMP…