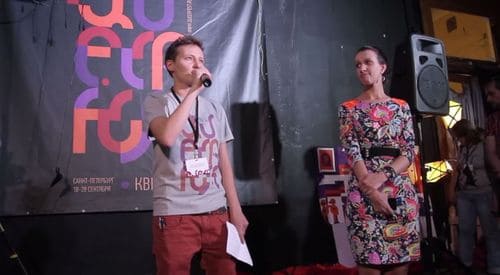 The International Queer Culture Festival's kick off in St. Petersburg on Thursday was disrupted by anti-gay activists – including lawmaker Vitaly Milonov [pictured below] and others associated with the Russian Orthodox faith.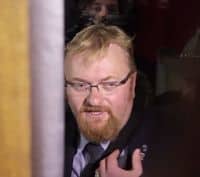 Reported Polina Andrianova, one of the QueerFest organizers:
About 20 hooligans sprayed guests with green substance and some sort of putrid gas. At one point, two foreign guests were being pulled into the venue by the security while being pulled out by their feet by the perpetrators.
The police, who carried themselves professionally, were taking numerous statements by the victims, while St. Petersburg ombudsman urged more people to document violations.
Andrianova also reported on the on-going struggle to secure a location for the festival – as venues continue to cave to anti-gay pressure and cancel on organizers.
Molinov, you may recall, was a leading sponsor of Russia's bill banning homosexual 'propaganda.' Molinov also called for a boycott of the Eurovision Song Contest earlier this year – or as he called it the "Sodom show" because of drag performer Conchita Wurst's participation. 
Check out a video of the festival – including a brief apparance by Molinov, AFTER THE JUMP…(note: Russian language)