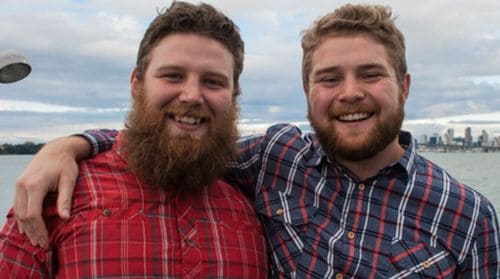 New Zealanders Travis McIntosh and Matt McCormick are jumping the broom and getting hitched this week. The "aww"-inducing announcement has been tampered, however, by the two friends' status as heterosexual pals out to win a trip.
The Edge radio station in New Zealand recently hosted a contest to see which bromance could make the ultimate cut. The prize? An all-expenses paid excursion to the 2015 Rugby World Cup in England. The catch? Travis and Matt have to get married. Since same-sex marriage was legalized in New Zealand just last year, many gay rights groups see the heterosexual union as a mockery of what they spent so long trying to achieve.
News.com.au reports:
LegaliseLove Aotearoa Wellington co-chairman Joseph Habgood told the Otago Daily Times that the competition attacked the legitimacy of same-sex marriages.
"The point of this competition is that men marrying each other is still something they think is worth having a laugh at …
"Maybe on the day that statistics around mental health for LGBTI (lesbian, gay, bisexual, transgender and intersex) people are better, when high schools are safe places for LGBTI youth, we can look back on all this and laugh.
"But competitions like this don't bring that day any closer."
Though Zack and Travis likely support same-sex marriages, and are apparently quite confident in their heterosexuality, their statements about the ceremony are admittedly lacking in sympathy or nuance.
"We are not here to insult anyone. We are here to do our own thing and travel our own path," McCormick told the Otago Daily Times.
McIntosh said the wedding was not mocking the institution of marriage.
"It's just seeing how far two good mates would go to win a trip to the Rugby World Cup."
As one gay rights group commentator noted, the language of "how far" the pair are willing to go seems to suggest that same-sex marriage on the whole is "something outrageous that you'd never consider." Of course Zack and Travis's ceremony can also be chalked up to a lark and an occasion to celebrate their friendship.
What do you think of the wedding? Sound off in the comments below.