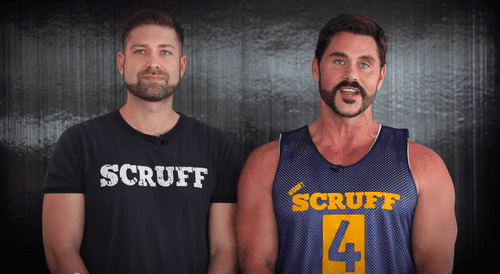 SCRUFF founder Johnny Skandros took to YouTube earlier this week to announce BeneveolAds, a new, free ad-platform available to nonprofits interested in advertising on the popular gay social application. Since its launch in 2010 SCRUFF has offered paid advertising space within its iPhone and Android applications for major brands. A growing demand for community-focused ads, Skandros says, inspired the team to create a free, more specialized alternative.
"Organizations reach out to SCRUFF every day asking for help getting the word out about things like events, fundraisers, and sports leagues." Skandros said in a press release. "Benevolads enables us to say 'yes' to everyone".
Unlike SCRUFF's paid advertisement, Benevolads are meant to be hyper-local in nature and highly reflective of the specific goings-on within a community. Skandros explained that 80% of Benevolads will be set aside specifically for local organizations and sourced directly to SCRUFF users nearby based on their locations. The remaining space will go towards not-for-profit orgs working towards bettering the LGBT community.
"As gay men have moved online and to mobile, it has become critical for nonprofits to meet their communities where they gather." said SCRUFF's chief product officer Jason Marchant. "Using Benevolads, with just a logo and a headline, any organization can reach their community with mobile ads on SCRUFF."
Watch a Johnny Skandross and Jack Mackenroth introduce Benevolads AFTER THE JUMP…