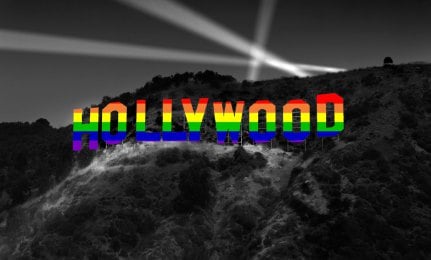 The film industry specializes in illusion: actors can play anywhere along a gay spectrum and full storylines are effectively created for gender non-conforming, bisexual, or transgender persons, even if American "culture" is not reflective of the willingness necessary to accept those representations. The "liberal Hollywood" archetype may be revealed as just an illusion, however, thanks to a new study out of UCLA's Williams Institute. 
In a survey of 5,700 SAG-AFTRA members, over half the lesbian, gay, and bisexual respondents reported hearing anti-gay comments from the crew. 53% "believed that directors and producers are biased against LGBT performers." These are surprising statistics when one considers the rapidity with which actors and actresses have been coming out in recent years, egged on by increasing levels of awareness and equal rights throughout the country. 
Deadline reports:
"We found that LGBT performers may have substantial barriers to overcome in their search for jobs," said the authors of the study, M. V. Lee Badgett, a Williams Institute Distinguished Scholar and Director of the Center for Public Policy and Administration, and Jody L. Herman, manager of Transgender Research at the Williams Institute, UCLA School of Law…
According to the study, "gay men were the most likely to re­port they have experienced some form of discrimination, with one in five reporting an experience. Bisexual actors were about half as likely to report discrimination as gay or lesbian actors. Gender nonconforming gay and bisexual men were more likely to experi­ence discrimination, as were men who were out professionally…"
The study also found that LGBT performers are less likely than heterosexual performers to have agents, "which may put LGBT performers at a disadvantage when looking for work.
Still, 72% of lesbian, gay, and bisexual respondents reported that coming out had had no ill effect on their career, and they recommended that other LGBT actors follow suit. The damning first-person accounts included in the study (gay actors being recast, fired, or told they "aren't right" for a role) would seem to suggest otherwise, but SAG-AFTRA is confident that the study will make an impact.
"Although our industry is heading in the right direction, there is clearly work left to do as certain attitudes and behaviors persist and continue to put pressure on actors to stay in the closet," wrote Traci Godfrey and Jason Stuart, national co-chairs of the SAG-AFTRA LGBT Committee. "We are confident that this unprecedented study will have profound ramifications for the entertainment industry as a whole. By utilizing the data it contains as it reflects the realities performers face, we can identify the obstacles to equal employment opportunities and full inclusion."
Image via Deadline.