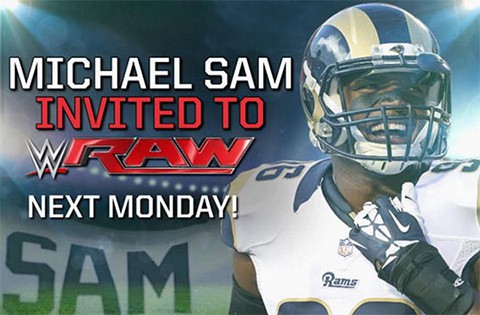 The WWE posted an open letter to Michael Sam today, inviting him to come on next Monday's broadcast of WWE Raw (which, not coincidentally, would air opposite Monday Night Football), to tell his side of things as they've gone down in the NFL so far:
Exhibiting class and dignity rarely shown in professional sports, Michael Sam, WWE invites you to next Monday's Raw to speak of your struggles to succeed, lessons you have learned along the way, the courage it takes to be yourself and the prospects of your continued journey.
You are a role model, who, by example, can encourage everyone to stand up and openly be themselves.
Sam was cut from the St. Louis' Rams roster over the weekend, also failing to be given a spot on the team's practice squad. The 31 other teams in the NFL similarly did not offer Sam a place on their teams during the 24 hours they were allotted to claim him.
Meanwhile, Sports Illustrated reports that Canadian Football League (CFL) team The Montreal Alouettes has reached out to Sam, presumably regarding a potential contract. No word yet on whether Sam is considering a move to the CFL or whether he will continue pursuing a career in the NFL.