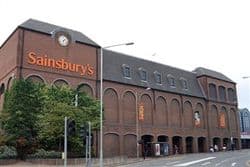 Annabelle Paige, a university student in Brighton, UK, was told to stop kissing her girlfriend by a security guard at a Sainsbury's supermarket recently. Though the supermarket has since issued an apology, activists are incensed about the threatening "stop-or-leave" words of the guard. They are now planning a "Big Consensual Kiss-In" to support the couple, to be held this Wednesday at 6pm.
Pink News reports:
University of Sussex student Annabelle Paige said she gave her girlfriend a light kiss while in a Brighton branch of the superstore recently when a security guard approached and told them to either stop kissing or leave.
A Sainsbury's spokesperson has since apologised, saying: "This should never have happened – it is clear that Miss Paige and her partner were not behaving inappropriately and we are very sorry that they were treated in this way."
Sainsbury's is also donating £100 to charity, but the kiss-in planners think this a meager sum given the store's earnings and a less-than-great history with LGBT issues. In April the store was criticized for covering up Attitude and GT magazines while leaving the bared skin on the cover of FHM exposed. The kiss-in Facebook event notes:
"Their profits for the year to March 15 were £898m. Doesn't sound like they are serious about tackling homophobia, does it?
"[We want ]to show Sainsbury's we won't accept homophobia in our society, and that we demand they do more!"
"If you have nobody to kiss we'll find you someone or something," the group notes.
Sounds fun (and for a good cause); best of luck to the 1,200 confirmed Brighton kissers on a successful and fruitful kiss-in!