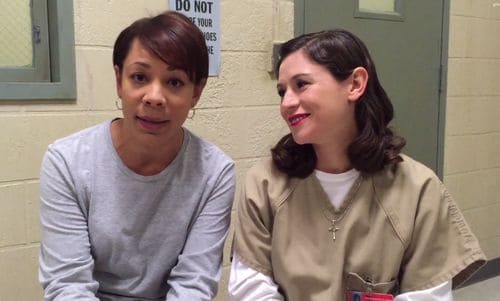 Who better to tout GLAAD's annual LGBT Spirit Day than the most sexually and racially diverse cast on television? A couple of the ladies from Netflix's Orange is the New Black made a video to inform those outside the Litchfield Prison walls about the event, taking place on Thursday, October 16th. 
Selenis Leyva (above left), who plays Gloria Mendoza on the show, gets right to the point: "Did you know that half of all gay, lesbian, bisexual, and transgender students say they feel unsafe at school?" The solution, according to Yael Stone (AKA Lorna Morello, above right)? "Wear a whole lot of purple." That's right, GLAAD wants you to stand in solidarity with bullied LGBT youth by wearing purple from head to toe (or, you know, somewhere) and communicating your support. And if the cast of "OITNB" is doing it, why on earth wouldn't you?!
Check out the Spirit Day website here.
And watch the promotional video, AFTER THE JUMP…