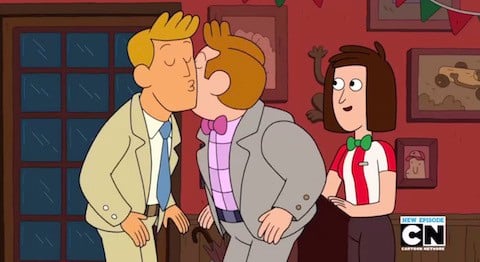 Clarence is a Cartoon Network kids' show that is a bit of a blend of Adventure Time and Nickelodeon's 90s cartoon Doug, featuring a little boy and his endless optimism in the world around him and some crude humor splashed around for giggles. There's seldom little in this form of entertainment to warrant time on a gay blog, but Clarence earned attention by daring to do what virtually no kids' shows do: acknowledge the gays.
In a short clip from the most recent episode, a man walks into a restaurant and a woman waiting at a table starts fussing with her hair, clearly expecting him to be her blind date. Then in an unexpected turn, another man walks up and the two give each other a peck on the cheek before heading towards their own table together. It's sweet, and the gag plays off of misplaced expectations rather than the men being the butt of the joke.
According to The Back Lot, the script originally called for the men to have a quick kiss on the lips, but then the executives got nervous and called for a revision. That decision is annoying, but it's a far cry from the squeamish censorship of the 90s in which ABC even found familial affection between siblings Dot and Enzo in the show ReBoot to be an endorsement of incest.
You can watch the short-but-sweet clip AFTER THE JUMP…