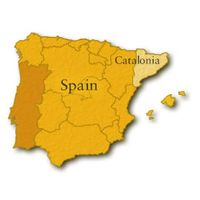 The parliament of Catalonia, an autonomous community in Spain, has passed a law to fight anti-gay violence. Specifically, the law targets attackers of the LGBT community with fine — maximum €14,000 (~$17,500).
Pink News points out that, despite that Spain is one of the gay-friendliest countries in Europe — having same-sex marriage for almost 10 years — this law is a response to a report in July that said the majority of Spain's hate crime in 2014 was motivated by sexual orientation, with 452 identified cases. (All this is not to mention suspicious, recent bar raids by police.)
Opponents of the bill include Spain's conservative Popular Party, which says the law makes it so the burden of proof will be shifted — that those accused of homophobia will have to prove their innocence.
Said Popular Party spokesperson Dolors López:
Why isn't there an anti-discrimination law for immigrants or ethnic minorities[…]You can't come up with a specific law for every group suffering discrimination […] This law grants the LGBT collective an extraordinary system of protection that other groups don't enjoy.