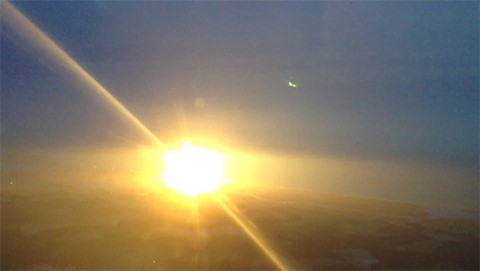 Yesterday, we told you about the unmanned Antares rocket bound for the International Space Station (ISS) that exploded mere seconds after launch. Today, video has surfaced showing the explosion as seen from a Cessna plane flying not far from the launch site. The extraordinary video captures the rockets' brief ascent and fiery explosion that luckily left no one on the ground injured. Said amateur videographer Ed Sealing of his footage,
I took this video of the very unfortunate Orbital Sciences rocket explosion on my iPad Mini. Video was taken in our Cessna 177 Cardinal from an altitude of 3000ft. Sorry for the sound. I'll have a better one up once it's been edited out.
According to USA Today, NASA's investigation into the incident is ongoing:
"It is far too early to know the details of what happened," said Frank Culbertson, Orbital's executive vice president and general manager of its Advanced Programs Group.
"We will not fly until we understand the root cause," he said.
Culbertson said he believes the range-safety staff sent a destruct signal to the rocket after it encountered problems and before it hit the ground, but was not certain. Bill Wrobel, director of NASA's Wallops Flight Facility, said crews were letting the fire burn out.
Watch the incredible footage for yourself, AFTER THE JUMP… 
Doppler radar shows the explosion of the #Antares rocket. No injuries reported according to @NASA pic.twitter.com/ugY57LZgve

— Matt Daniel (@mattdanielwx) October 28, 2014