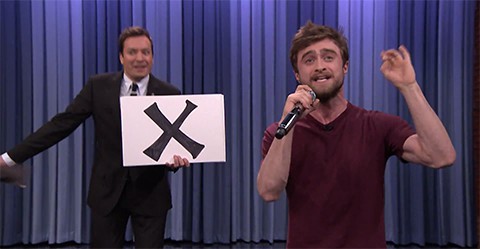 Daniel Radcliffe stopped by Jimmy Fallon's The Tonight Show last night and shared that not only is he a big fan of rap music–which he noted many find surprising–he also has "an obsession with memorizing complicated, lyrically intricate and fast songs." Fallon, of course, smelled a musical challenge.
FALLON: Like, Blackalicious' "Alphabet Aerobics." You know how to do that song?
RADCLIFFE: Yeah, I do.
FALLON: That's one of the trickiest, fastest songs I know.
RADCLIFFE: Well, yeah
Challenge accepted. Watch as Radcliffe lays down his superior rap skills, AFTER THE JUMP…