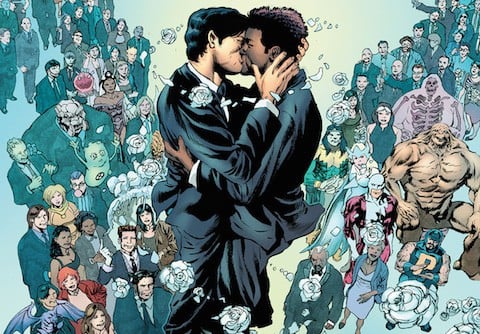 Comic book fans had lots to rejoice about yesterday when Marvel Studios announced its upcoming slate of new films. In addition to sequels for the critically and commercially successful Captain America and Guardians of the Galaxy films, Marvel is making history with its first film led by a black superhero, Black Panther, and its first anchored by a female, Captain Marvel.
It's just the latest move coming out of comic book culture, where publishers have been redefining mainstream heroes as a more diverse bunch. Many of the familiar (straight, white, male) characters — most of which got their start decades ago — are being joined by a growing number of heroes that reflect a richer representation. In addition to the female Captain Marvel, Marvel's also recently started publishing series focusing on a female Thor, a black Captain America and a wildly successful book based on a Muslim American teenager, Ms. Marvel.
This surge in inclusivity extends to LGBT characters as well. From lesbian crimefighter Batwoman to young mutant Benjamin Deeds, there's a growing number of queer mainstream characters that could become the next Batman, Wolverine or the Flash, conquering the box office or leading a television series.
"As pop culture goes, it's never been hotter to be a geek," wrote Jono Jarrett, a founding board member of GeeksOUT, an organization dedicated to promoting LGBT inclusiveness in the geek community. "Politically, across the world queer visibility and acceptance are on the rise—or where it's not, it's being challenged like never before."
With this momentum on and off the page, could it be long before we see an LGBT superhero take the spotlight on the large or small screen?
Learn more about the state of queer characters in comic books today, AFTER THE JUMP …
Before this recent push from big publishers, Jarrett and his group saw the need for a greater queer presence in geek culture when they launched their first booth at New York Comic Con in 2011.
"That first year, without too much hyperbole, the way these folk—who work with student groups or straight-LGBTQ alliances on campus—reacted to our presence and our resources that first year, you'd think we were handing out water in the desert," Jarrett said. "We repeatedly heard, 'Oh man! I've got to tell my brother,' or 'Wow, can I take a few brochures for the kids at my school?' Everyone at the con knew somebody who qualified as a queer geek and saw this opportunity to connect them to a community they probably didn't know existed."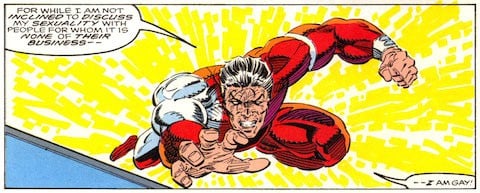 That doesn't mean gay characters have been completely absent from mainstream superhero comics (and certainly not from indie comics, which, like most media, tend to be more progressive than their larger counterparts). The first major mainstream character to come out at Marvel was the fast-flying mutant Northstar, when he proclaimed "I am gay" in 1992's Alpha Flight #106. (The Comics Code, a collection of guidelines many publishers followed through the early 2000s, actually banned references to homosexuality until 1989.) For years following his coming out, Northstar's sexuality was barely focused on, and he wasn't portrayed in a healthy, loving relationship.
"The first queer character I encountered was Northstar during the Chuck Austen era of Uncanny X-Men when I was about 17 (I had heard of him before then, but never bought an Alpha Flight issue)," blogger Jon Tully told us via e-mail. "I thought it was wonderful to have a queer character, but didn't like how the only affection he had wasn't reciprocated. It sent a message to me as a queer teen that I would only fall in love with straight men and never find true happiness."
Northstar would make headlines again in 2012 when he married his partner Kyle Jinadu, a relationship that began in 2009. Although Northstar has been a trailblazer, many of the best depictions of queer characters in comics have come courtesy the genre's younger heroes, such as X-Men's Anole and Graymalkin, Karolina Dean of The Runaways and Bunker from Teen Titans. The most critically acclaimed LGBT comic book darlings (and, if Tumblr is any indication, our best hope for a successful live-action adaptation), however, are Wiccan and Hulkling of the Young Avengers.

The relationship between the gay teen couple has long functioned as the fulcrum on which the Young Avengers' emotional stories balance. They've made out, broken up, made up and saved the world — just like any other superpowered couple in comics — but their most recent run in Young Avengers has garnered particularly rave reviews from readers and critics.
"My recommendation for a queer-friendly comic would have to be Kieron Gillen/Jamie McKelvie's run on Young Avengers," blogger Shaun Noworyta wrote in an e-mail. "It is, without a doubt, the QUEEREST assemblage of young superheroes to date. With solid storytelling and gorgeous artwork, the series would be a knockout for new and veteran comic book fans, alike."

Gillen and McKelvie's work, which has been credited with the first all-queer superhero team, also earned them a GLAAD Media Award. It's notable not just for the quantity of queer characters they introduced, but the way they make the characters' fluid interpretations of sexuality a sort of non-issue. As Gillen told the crowd at GeeksOUT's "LGBT In Comics" panel at this year's New York Comic Con (one of at least 18 panels devoted to gender, racial or sexual orientation diversity at the event): "The last thing we wanted it to be was a press release."
It's an approach that's resonating with fans.
"Not only does it have the largest queer cast of any major industry book, but the queer identity never overshadows the human identity," Tully said. "Every queer character doesn't need to be an attempt at making a statement: depicting the characters as equal to their straight and cisgender counterparts IS statement enough."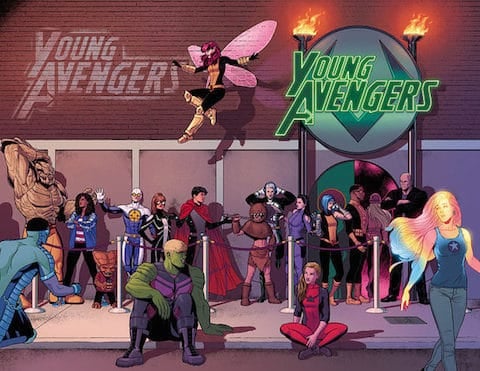 There are still some, like blogger Nathan Tabak, who want to see more focus on queer characters' sexuality.
"It's the creator's prerogative, obviously, to decide what fits the story. But creators shouldn't be afraid to write LGBT characters who are flawed, who might actually happen to fit some of the common stereotypes, who have active sex lives, and who actually might be defined by their sexuality in some significant way."
We may still have a while to go before we see Northstar, Wiccan or Hulkling fronting a feature film, but, as more and more comic books are turned into television series and blockbuster movies, it's promising to see this conversation continue among fans.
As Jarrett reminds us: "While it's true there remains entrenched homophobia, sexism, and racism within mainstream, large-format geek media (the way there is in all media), the more voices we can help include in the conversation, the less they remain entrenched."
What was the first LGBT superhero you've encountered? Do you have a favorite?