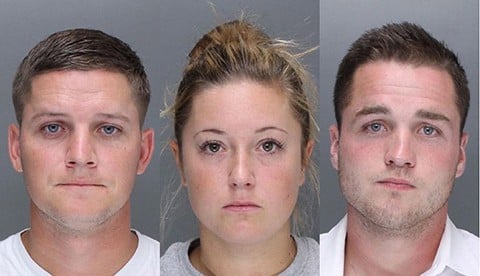 The three suspects charged in the September 11 attack on a gay couple in City Center, Philadelphia will not face a preliminary hearing in court until December 16, according to NBC 10 News.
The defendants, 26-year-old Kevin Harrigan, 24-year-old Kathryn Knott, and 24-year-old Philip Williams, are accused of aggravated assault, simple assault, recklessly endangering another person and criminal conspiracy. The December court date was granted because attorneys for the accused "requested more time before [the] preliminary hearing":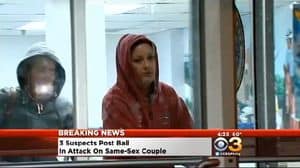 Police accuse the two men and a suburban police chief's daughter with taking part in an assault that left one man with a wired jaw.
Despite the charges they face, the suspects — through their attorneys — insist the gay couple instigated the fight when one of them threw the first punch, and that gay bashing was not the motive
"With respect to my client, he was not the aggressor," said Fortunato Perri, an attorney for Williams. "[He] did not initiate anything and only became involved in the incident after one of the purported victims in the case punched one of the girls in the face."
Despite the defendants' claim that they were not the instigators, reports have abounded that the fight was preceded by homophobic slurs hurled against the victims by the defendants. You'll also recall the social media sleuthing done by activist Scott Wooledge who dug into accused attacker Kathryn Knott's Twitter account and found a history of homophobic remarks.
The accused attackers have all been released on bail. They will not face hate crimes charges as Pennsylvania law does not offer hate crime protections on the basis of sexual orientation. However, that may be about to change if State Rep. Brian Sims and State Sen. Jim Ferlo have their way.
Watch a news report on the latest update out of Philadelphia, AFTER THE JUMP…