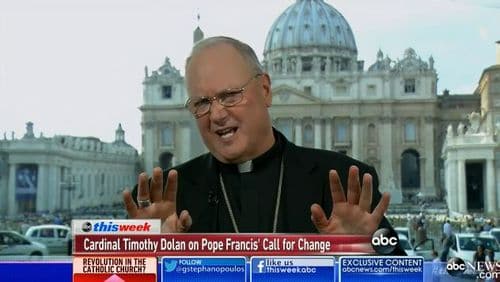 NYC Archbishop Cardinal Timothy Dolan spoke to George Stephanopoulos today about the Vatican's watered down final document for its synod on the family – a report that scrapped language that seemed to indicate a dramatic new tone in the church's response to homosexuality, divorce, and contraception. 
Dolan, ever the bigoted firebrand, praised the African church leaders in attendance who were vocal about their opposition to any doctrine revisions that could be interpreted as pro-gay.
"There was a pretty good, vivid conversation especially with the African bishops, who I love more than ever, who obviously come from cultures and societies that I admire that have a very strong definition of marriage as man and woman with children and are kind of afraid of attempts to water that down. One of the fears that they would have would be what we would call same-sex marraige. So they were pastorally sensitive about a document giving any indication that the Church might be open to any change at all in the definition of marriage. So there was a good debate, a good conversation that went on."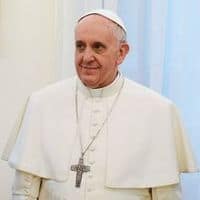 Dolan also reiterated his belief that Pope Francis is trying to take the "middle road" on issues facing the church: 
"Once again, you got overwhelming agreement on things – first of all on the definition of marriage given to us by God and faithfully handed on by the church: one man, one woman, lifelong, life-giving, faithful, bringing about new life and children. Enthusiastic response to that. And then the other side was how can we embrace and never alienate those who are unable to live up to that noble ideal. And as usual, Pope Francis is saying we've got to keep both those values in mind. "
Dolan has a lot of work to do to live up to the call to embrace and not alienate gays, however. Despite his claim that he's not "anti-anybody," Dolan has equated same-sex marriage to incest, denied LGBT Catholics entry to mass, and insisted LGBT individuals are entitled to friendship, not marriage – among a laundry list of other incendiary remarks.  
Watch Dolan's interview, AFTER THE JUMP…