A federal judge in Kansas who was set to hear a challenge to the state's ban on same-sex marriage today has canceled the hearing, the Associated Press reports: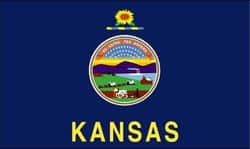 ACLU attorney Doug Bonney said U.S. District Court Judge Daniel Crabtree is considering whether to reschedule the oral arguments or decide the case based on the parties' written arguments.
Bonney said he told Crabtree during a 30-minute conference Thursday that the ACLU did not have time to review the state's written response to the lawsuit because it had just been filed.
This is separate from the case scheduled to be heard before the Kansas Supreme Court on November 6.
Kansas remains the only state in the Tenth Circuit without marriage equality. 
Update: Plaintiffs in the case have been given until Monday (October 27) to file additional briefs on the preliminary injunction.