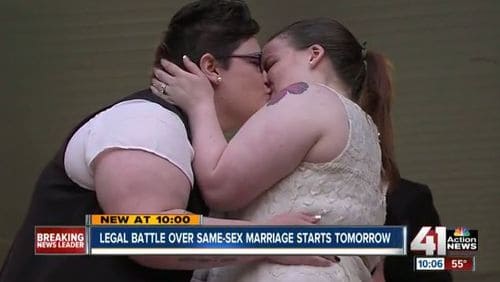 A federal judge in Kansas is expected to hear a challenge to the state's ban on same-sex marriage later today, the Associated Press reports:
The hearing Friday afternoon before U.S. District Judge Daniel Crabtree in Kansas City, Kansas, is on the ACLU's request for an order to force Kansas to allow gay marriages.
The ACLU filed the lawsuit for two lesbian couples who were denied marriage licenses in Douglas and Sedgwick counties after the U.S. Supreme Court refused to hear appeals from five other states seeking to preserve gay marriage bans.
The ACLU is seeking a temporary injunction to bring Kansas into line with 10th U.S. Circuit Court of Appeals precedents in other cases.
Kansas City station KSHB adds the Kansas Supreme Court will take up a separate gay marriage case next week. Kansas remains the only state in the 10th Circuit without marriage equality.
Watch a KSHB report on today's case, AFTER THE JUMP…