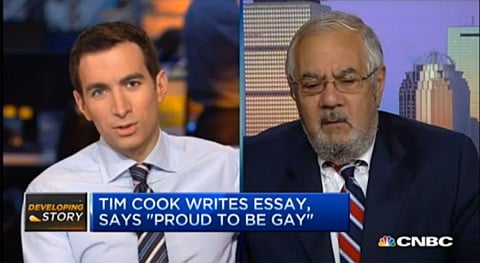 In an appearance on CNBC this morning following the news that Apple CEO Tim Cook came out as gay, former Rep. Barney Frank (who also served as chair of the House Financial Services Committee) said he's "grateful" that Cook came out of the closet and explained that legal equality for LGBT people has only come about because people have been open about who they are and told friends, relatives, co-workers, etc.
Frank said the announcement would have wide implications:
"When the man who has been the leader for several years with great success of one of the most important and successful businesses in America, says, 'Oh by the way, you know those people about whom you have these negative feelings, well I'm one of them.' That does such an enormous amount to diminish the negative feelings."
Frank said that Cook was smart to not come out right away when he took over at Apple because it would have clouded perceptions about his performance. Now, of course, with the company's stock near all-time highs, it's very good timing, Frank added:
"Now, it's just indisputable that his sexual-orientation is important to him personally — but that's it's a wholly irrelevant factor economically, and I do believe that will encourage some other people to [come out]."
Watch, AFTER THE JUMP…