Vitaly Milonov, the St. Petersburg lawmaker behind the city's anti-gay "propaganda" ban and the disruptions at last month's Queerfest, is now calling for a lifetime travel ban on Apple CEO Tim Cook, who came out publicly as gay earlier this morning.
Buzzfeed reports: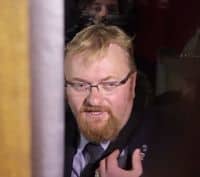 "What could he bring us? The Ebola virus, AIDS, gonorrhea? They all have unseemly ties over there," St. Petersburg city council member Vitaly Milonov told the FlashNord website on Thursday. "Ban him for life." […]
Milonov, an MP in St. Petersburg whose local "gay propaganda" ban became the basis for the controversial federal law passed last year, is an iPhone and iPad owner but recently declared that an iPhone 6 his "European homophobe friends" gave him was too vulnerable to U.S. spying for Russian officials to use.
Last year, Bloomberg reported that Apple's share of Russia's smartphone market was around the 8 percent mark, as the device is "too pricey for all but the wealthiest of the country's 143 million people"
Earlier this year, Apple was asked by Russian LGBT organizations to cut ties with Russian phone retailer Euroset following comments made by the company's creative director suggesting that gays deserved to be burned alive in furnaces.