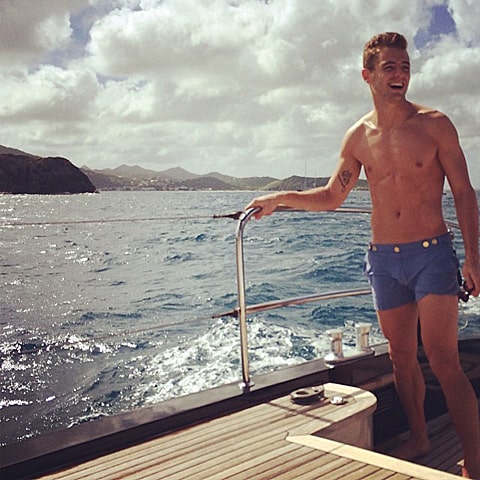 After a history of extraordinary gay athletes, like Martina Navratilova, Orlando Cruz and Glenn Burke, the last few years have seen more active players beginning to open up publicly about their sexuality. Jason Collins may have been the first publicly gay active athlete in a North American team sport, but it was the Los Angeles Galaxy's Robbie Rogers who was the first out athlete to actually play after coming out.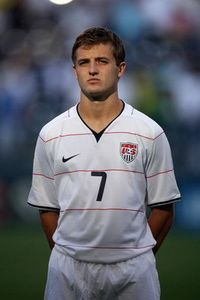 Before making history, Robbie had played on the United States men's national soccer team as well as for Leeds United. In 2013, a 25-year-old Rogers simultaneously announced that he way gay and retiring from soccer in a blog post.
"I always thought I could hide this secret. Football was my escape, my purpose, my identity. Football hid my secret, gave me more joy than I could have ever imagined… I will always be thankful for my career. I will remember Beijing, The MLS Cup, and most of all my teammates. I will never forget the friends I have made a long the way and the friends that supported me once they knew my secret.
Now is my time to step away. It's time to discover myself away from football. It's 1 A.M. in London as I write this and I could not be happier with my decision. Life is so full of amazing things. I realized I could only truly enjoy my life once I was honest. Honesty is a bitch but makes life so simple and clear. My secret is gone, I am a free man, I can move on and live my life as my creator intended."
He wouldn't stay retired for long. He played his first match as a substitute for the Galaxy on May 26, 2013, (just weeks after Collins came out and credited Rogers for blazing a trail).
Even though his retirement was short-lived, his place in history has been secured. Hear Robbie's thoughts on coming out, professional sports and more of our favorite clips,
AFTER THE JUMP …
After coming out, Robbie sat down with Anderson Cooper and talked about what it was like growing up as an aspiring gay athlete: "I had no one to look up to. No professional athlete like "'Ok this is what he did, I want to be like him, he made it.'" He also talked a bit about why he chose to retire following his announcement: "I felt like I couldn't play and come out. I thought it would be too emotional for me, it would be a circus."
Of course, he did end up returning to professional sports. His debut for the Galaxy was met by cheers from the crowd. You can see him make his first entrance onto the field and discuss the experience with ESPN, above.
Earlier this year, Canadian sports network TSN included Rogers in a three-part series on homophobia in sports called "ReOrientation: The Culture of Casual Homophobia." Also included were Chris Kluwe and Esera Tuaolo from the NFL, as well as NHL players Ben Scrivens and Dustin Brown.
Ending homophobia isn't Rogers' only passion. You can see him discuss the danger of fireworks for dogs in the PETA clip, above.
Rogers is staying plenty busy off the field as well. In addition to working on his memoir, ABC has picked up a sitcom based on his experience called Men In Shorts. See him looking Hollywood-ready as he opened the GLSEN Respect Awards last year, above.
Are you a fan of Robbie Rogers?