A dramatic shift in tone from the Vatican regarding gay people that was evident in the draft of a document produced by Catholic leaders at its synod on the family has been scrapped and all evidence of it removed by conservatives in the Church, the Guardian reports: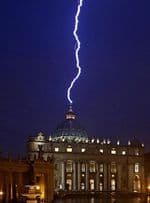 In the final report of an extraordinary synod on the family which has exposed deep divides in church hierarchy, there is no mention – as there had been in a draft version – of the "gifts and qualities" gay people can offer.
Nor is there any recognition of the "precious support" gay partners can give each other.
A paragraph entitled "pastoral attention to people of homosexual orientation" – itself a distinctly cooler tone than "welcoming homosexual persons" – refers to church teaching, saying there can be "not even a remote" comparison between gay unions and heterosexual marriage.
"Nevertheless," it adds, "men and women of homosexual tendencies must be welcomed with respect and sensitivity." They should not suffer from discrimination, it adds.
But the shift in tone is clear. And even this watered-down passage failed to pass the two-thirds majority needed for it to be approved.
The other two paragraphs that failed to pass majority dealt with people who had divorced and remarried and whether they should be allowed to take communion.
The pro-gay text's rejection began shortly after the draft was released to the public. NYC Cardinal Timothy Dolan was among those who suggested the document needed "major reworking".