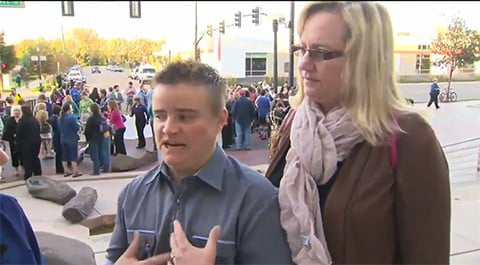 While same-sex couples were set to be able to begin marrying today in Nevada, Supreme Court Justice Anthony Kennedy's stay of the 9th Circuit Court's ruling striking down gay marriage bans in Nevada and Idaho has effectively blocked same-sex couples in both states from saying "I do."
Justice Kennedy's stay came after an emergency motion filed by Idaho state officials that requested a recall of the mandate from the 9th Circuit that made its ruling effective immediately.
In Las Vegas, the self-proclaimed marriage capital of the world, the Marriage License Bureau had expected big crowds seeking gender-neutral marriage licenses starting at 2 p.m. local time. But Clark County Clerk Diane Alba told The Associated Press those plans were on hold.
"It looks pretty clear that we're not going to issue licenses this afternoon," she said.
Amber Beierle, one of the eight women who sued Idaho over its gay marriage ban, had hoped to marry her partner, Rachael Robertson, on Wednesday.
"We were past the metal detectors, we were just a few feet away from the clerk, and then our attorney was handed a one-page document," Beierle said. "Apparently it was Justice Kennedy telling us no."
Idaho Gov. C.L. "Butch" Otter said he was glad Kennedy acted quickly.
"I'm pleased that Justice Kennedy has given us the opportunity to make our case in a way that helps avoid the confusion some other states have faced," Otter said. "I intend to be faithful to my oath of office and keep working to protect the Idaho Constitution and the mandate of Idaho voters in support of traditional marriage."
The delay could last just a few days. Kennedy's order requested a response from the plaintiffs involved in Idaho's gay marriage lawsuit by the end of Thursday.
The entire Supreme Court would need to weigh in to extend the stay beyond a couple of days.
Watch a news report from Idaho on the stay and the disappointed couples, AFTER THE JUMP…