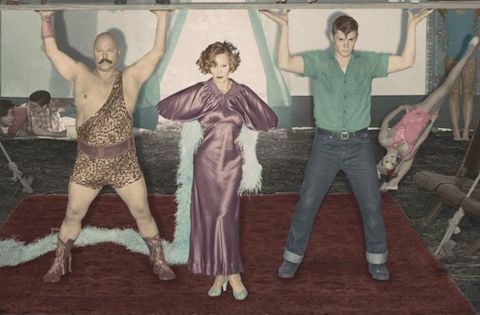 You may want to think twice before you ask to send in the clowns. American Horror Story is back for its fourth installment, Freak Show, a twisted tale centered around a sideshow.
After last year's sleek, chic Coven, Ryan Murphy is allegedly dialing back the camp a bit for this darker story. From what we've seen so far, (three-breasted ladies! Kathy Bates in a beard! powder blue pantsuits!) there's still camp to be found, but it's tempered with some serious chills.
Each season has had its fair share of ups and downs. But, despite its flaws, a series by Murphy still knows how to keep its viewers on their toes. American Horror Story typically yields his best work. The anthology format suits his ambitious (and sometimes sloppy) storytelling. The series' yearly reboot allows Murphy and his team to take big swings before the work gets completely crushed beneath the weight of plotholes, abandoned storylines, and hasty character transformations.
How will this season's Freak Show measure up to the previous three? Get ready to get your freak on with a little background on the upcoming season and preview videos, AFTER THE JUMP…
The Premise
Saying this season is about a freak show is like saying the first season was about Los Angeles real estate. While certainly not untrue, it doesn't do justice to the sort of bananas storytelling this show has made its trademark. We'll have to wait to see what surprises are in store, but for now we know we'll be following a group of sideshow performers settled in Jupiter, Florida in the 1950s. Their show is on its last legs, but its leader, Elsa Mars, thinks she's made a discovery that could turn it all around.
The Familiar Faces
By now the AHS framework should feel familiar. Each season, several actors come back in entirely new roles. There are returning Horror Story vets like Jessica Lange (playing the wicked yet warm head of the freak show), Sarah Paulson (as conjoined twins), Frances Conroy, Evan Peters and Denis O'Hare. Additionally, several actresses who debuted in last season's Coven are back, including Bates (this time as a bearded lady), Angela Bassett (as a three-breasted woman), Gabourey Sidibe and Emma Roberts. Plus, we even get a second helping of Asylum character Pepper (Naomi Grossman).
The Newcomers
There are several Horror Story newbies that are worth getting excited about. First off, Patti LaBelle is joining the cast. Then there's Finn Wittrock — whom you may recognize as the gay escort from Masters of Sex or as Albert in Ryan Murphy's adaptation of The Normal Heart — making his AHS debut playing the bored son of Conroy's wealthy socialite. Michael Chiklis (The Shield) also joins the cast, playing Bates' ex-husband and Bassett's current beau. Wes Bentley (American Beauty, The Hunger Games) will headline this season's two-part Halloween episode as a man with a face on the back of his head that makes him do evil. 
The Theme
Sometimes Murphy just can't help himself from hitting audiences over the head with a message, and this season is no exception. Clearly, Freak Show is set up to hold up a mirror and ask us who the real freaks are. In case that's too much to ask of viewers, Lange's character goes so far as to assert: "I'll tell you who the monsters are — the people outside this tent." Expect more of that sort of obtuse social commentary dished out with all the subtlety of putting lipstick on a statue of the Virgin Mary and repeatedly calling it a whore (as James Cromwell's character did in season two).
The Warning
Look, we're not going to dance around it. This season's got clowns, and clowns are scary. This show's clown, however, is supposed to be particularly terrifying. Murphy says Twisty (played by John Carroll Lynch) is "The most terrifying clown ever!" He elaborated to BuzzFeed: "I'm worried that people are going to have cardiac arrests… The clown's intro in the first episode is … even I was terrified of it. It's brutal. Two crew members told me they have had nightmares about this clown since we started shooting and they're not even scared of clowns."
Do you plan on watching this season of American Horror Story?
American Horror Story: Freak Show premieres tonight at 10 p.m. Eastern on FX. Check out our weekly recaps Thursdays!