Brian Houston, the pastor of the Australian-based international Hillsong megachurch, is making headlines for remarks he made in New York City at a press conference on Thursday, the NYT reports: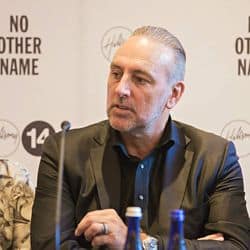 Leaders of Hillsong have been avoiding condemnation of homosexuality for some time, and the pastor of Hillsong's New York City campus, Carl Lentz, has declined to take a public position on same-sex marriage. But Mr. Houston's comments, made at a news conference Thursday in New York, were striking for their assertion that Christian churches have caused pain for some gay Christians, and for their suggestion that the issue of same-sex marriage is not settled.
Listen to Hillsong's remarks, AFTER THE JUMP…
Said Hillsong:
"I think with the church, the message is sacred but the methods have to change for the church to stay relevant. And it's challenging. It's challenging to stay relevant. I mean, if we go to the one big hot topic maybe for churches is…now with homosexual marriage legalized, and churches for generations, they hold a set of beliefs around what they believe the Word of God, the Bible says. And all of a sudden in many circles the church can look like a pariah, because to many people it's so irrelevant now. So staying relevant is a big challenge. I think it's more than just singing more contemporary songs and the colors you paint your walls or whatever."
Added Hillsong:
The world we live in, whether we like it or not, is changing around and about us. Homosexual marriage is legal in [New York City] and probably will be in most western world countries in a short time. The world's changing, and we want to stay relevant as a church, so that's a vexing thing. How do we not become a pariah?"
Houston noted the experience of gay children in Christian churches and said that some "literally are depressed, maybe even suicidal, and, sadly, oftentimes grow up to hate the church because they feel that the church rejected them."
He concluded:
"It's very easy to reduce what you think about homosexuality to just a public statement, and that would keep a lot of people happy, but we feel at this point, that it is an ongoing conversation, that the real issues in people's lives are too important for us just to reduce it down to a yes or no answer in a media outlet. So we're on the journey with it."
Listen to Hillsong's remarks, AFTER THE JUMP…