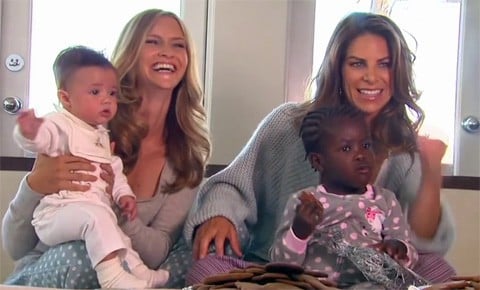 Though she's best known for whipping overweight Biggest Loser contestants into shape, Jillian Michaels (pictured above with her partner Heidi and their children) raised eyebrows last week after expressing that she wasn't entirely comfortable with being open about her sexuality.
"Look, I wish I had some strapping football player husband," she admitted in an interview with Health, explaining that she sometimes introduced her wife Heidi Rhoades as 'her friend.' "It would be such a dream to be "normal" like that, but I'm just not."
Over the weekend Michaels reached out to People magazine in an attempt to clarify her statements which she felt members of the LGBT community had simply "misunderstood."
"I attempted to shed light on how hard and scary it can be to be out," Michaels told People. "That gay families get attacked and even small daily interactions involve others being 'shocked and disturbed' by the gay lifestyle."
"I was saying if along the way in my life that had been a choice I would have made it, but it's not who I am. Gay is not a choice. If I was ashamed of who I am, I would be in the closet. Considering my family was on the cover of PEOPLE magazine, I think I'm pretty far from that."