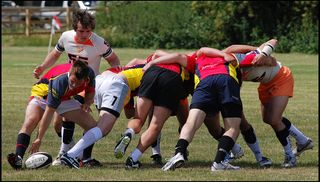 The London School of Economics has disbanded its men's rugby club following the digital publication of a misogynistic, homophobic leaflet that the team passed out during a fair welcoming this semester's fall freshman. The incendiary flyers triggered swift backlash from the LSE student body that quickly organized protests and reached out to university officials about the circulating slurs.
In response to the public's outcry the LSE student union took to its Tumblr to announce its intentions of launching a full scale investigation into the circumstances leading up to the flyers creation.
"This investigation will be thorough," the statement reads. "It will hear from both individuals that complained and the Club itself. This will allow us to determine any appropriate action."
The rugby club expressed its regret through the university's student newspaper, The Beaver, assuring students that it had every intention of cooperating with the student union's investigation.
"LSE Men's Rugby does not tolerate misogyny, racism, homophobia or prejudice of any description and the Club remains committed to the LSE's equal opportunities policy. Clearly, on this occasion we not only failed ourselves, but the university which we are so proud to represent."
Michael Etheridge, an openly gay administrator at the university wrote an impassioned open letter rejecting the rugby club's apology as lip service and belying the much larger issue of homophobia within the world of sports.
"The pathetic statement from the Men's Rugby Team shows no engagement with the issues, apologising not for their misogyny and homophobia, but for the decision to publish it." he said. "The leaflet's authors not only excluded gay people from their society, but went further in employing homophobia as a promotional tool.
The school's women's rugby team, a separate, unaffiliated organization, also issued its own condemnation of their male counterparts, stating that inclusion and diversity were key elements to the overall success of all of LSE's sports teams.