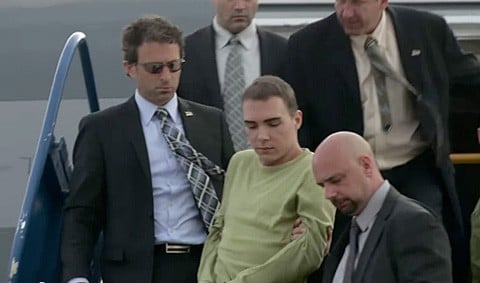 A criminal trial of Luka Magnotta is underway in Montreal.
Magnotta, as you may recall, is a Canadian porn actor who in 2012 was the subject of an international manhunt after he was charged with murdering a man and sending his body parts to political parties in the mail.
Global News reports:
Magnotta has admitted to killing 33-year-old Jun Lin in May 2012, of cutting up his victim's body, videotaping the act and posting it online. He's admitted to then mailing some body parts, discarding others in garbage bags and stuffing Lin's torso in a suitcase, leaving the items curb-side in Montreal before taking off for France, then Germany — where he was apprehended June 4 (2012).
But he has pleaded not guilty to the five charges he is facing as a result of those actions; his lawyer Luc Leclair is preparing to argue Magnotta was so psychologically ill he couldn't grasp the severity of what he was doing.
Leclair cross-examined Lin's former lover Feng Lin on Wednesday, attempting to paint a less than innocent picture of the victim. Also questioned was the apartment manager who rented a space to Magnotta that would later become the crime scene.
You can read many more details here, and there is a video report on the latest proceedings, AFTER THE JUMP…