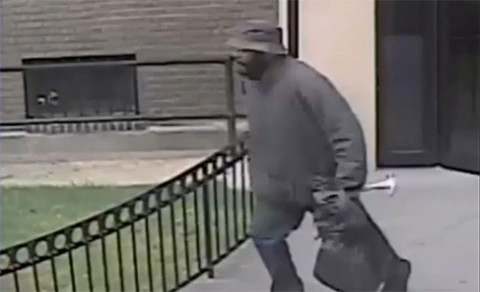 A man in Crown Heights, New York was savagely attacked Tuesday morning by a "hammer-wielding assailant" who shouted anti-gay slurs at his victim, leaving him with a fractured skull and several gashes to his head. As DNAinfo reports, New York police are investigating the assault as a hate crime:
Mitch Pope, 33, was walking back home from a coffee run Monday morning when a man he said he had never seen before followed him into his lobby of his apartment building at Washington Ave. near Sullivan Place in Crown Heights and suddenly went berserk.
"When I came to the front door I noticed there was a guy behind me with a black trash bag and I opened [the door] just assuming that he was doing construction in the building. As I soon as I let him in, I was about to walk up the stairs, he hit me in the back of the head with a hammer," Pope told DNAinfo Tuesday.
"I fell backwards and then he got on top of me and continued to hit me. And that's when I started screaming because I feared for my life," said Pope, who said the man used homophobic slurs during the attack.
"He was saying 'fa–ot' over and over again while he was hitting me. I literally thought he was going to take my life," Pope said. "It was horrifying."
Pope, who is gay, said the attacker continued to rain down blows with the hammer, which he tried to deflect with his hands. But as Pope's shouts threatened to summon the neighbors, the man got scared, stole his phone, and ran off, he said.
Though no suspect has yet been identified by police, New York's Hate Crimes Task Force has released surveillance footage of the man they believe to be the attacker exiting the building (pictured above). You can watch the brief clip HERE. The suspect is described as tall wearing a brown hooded sweatshirt and Timberland boots.