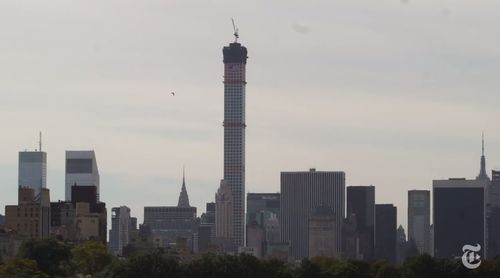 An imposing-but-thin building is dominating the midtown Manhattan skyline these days, and its name is not Empire State. No, this new behemoth is simply called 432 Park, and it is the tallest residential tower in New York City. Visible from all five boroughs, the building houses what will be some of the most expensive condos in the city, including a $95 million penthouse, and stellar views for miles.
The New York Times reports:
On Friday, the 104-unit condominium tower, between 56th and 57th Streets, reached its peak of 1,396 feet. At 96 stories, it is arguably the tallest building in the city. One World Trade Center has its spire, but the skyscraper itself is 28 feet shorter than 432 Park. As for the Empire State Building, this new 93-foot-by-93-foot concrete megalith bests it by nearly 150 feet. From the living room of 432 Park's penthouses, it is possible to look down on the observation deck there, flash bulbs glittering like an oversize chandelier.
But even more than the views from the apartments, it may be the views of them that give 432 Park its allure. From Central Park, Park Avenue or Park Slope, there it is. On the George Washington Bridge or Long Island Expressway, there it is. In the bleachers at MetLife Stadium or Citi Field, there it is. Everyone from cinematographers and muralists to tourists and snow globe makers must now contend with the tower.
Not everyone loves the new look of midtown, though. The tower is an admirable piece of engineering but also a symbol of New York elitism.
"God, does it stand out," said Marlene Rosenthal, who regularly glimpses it while riding Metro-North. "It's a status symbol, and that's the name of the game in this city…"
"For people who watch the skyline and love it, I think there's a real struggle," said Vin Cipolla, president of the Municipal Art Society. "There's a handsomeness about the building you can't deny, but it's so out of context and so imposing, it's hard to know what to make of it."
His group has urged City Hall to monitor these supertowers more closely. A dozen others are already in the works throughout Manhattan.
Looking on and discussing it may be the only interaction you'll have with the luxe millionaire pad at 432 Park, but it'll no doubt make an impression. What do you think of the new tower? Sound off in the comments below!
And check out a Times video filled with amazing views, AFTER THE JUMP…