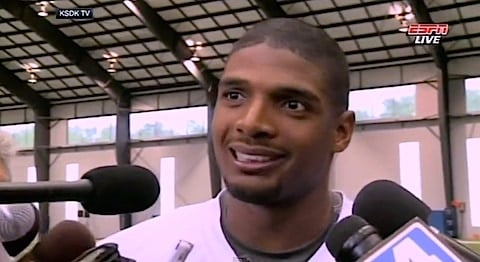 Michael Sam, the first openly gay player to be drafted in the NFL, has been cut from the Dallas Cowboys' practice squad, ESPN reports:
The Dallas Cowboys have waived defensive end Michael Sam from their practice squad and signed linebacker Troy Davis…
Coach Jason Garrett and defensive coordinator Rod Marinelli praised Sam's work in practice.
"Comes to work every day and practices hard," Garrett said last week. "One of 10 practice roster guys that we have, so he's working on his skills, trying to develop, but also doing a lot of other things. Playing offense, defense, playing the kicking game, that's what a lot of those guys do."
The Cowboys (6-1) have just seven sacks this season, but they never seriously considered calling up Sam to the active roster. 
Sam signed with the Cowboys' practice squad after being cut from the St. Louis Rams during their final round of cuts prior to the season officially getting underway. Sam today tweeted out,
I want to thank the Jones family and the entire Cowboys organization for this opportunity, as well as my friends, family, teammates, and fans for their support. While this is disappointing, I will take the lessons I learned here in Dallas and continue to fight for an opportunity to prove that I can play every Sunday.
I want to thank the Jones family and the entire Cowboys organization for this opportunity, as well as my friends, family, teammates, (1/3)

— Michael Sam (@MichaelSamNFL) October 21, 2014
and fans for their support. While this is disappointing, I will take the lessons I learned here in Dallas and continue to fight for an (2/3)

— Michael Sam (@MichaelSamNFL) October 21, 2014
opportunity to prove that I can play every Sunday. (3/3)

— Michael Sam (@MichaelSamNFL) October 21, 2014