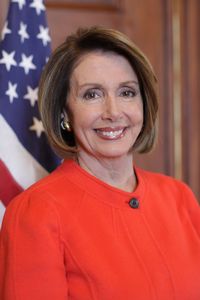 Nancy Pelosi has officially come out in support of a trans-inclusive U.S. military. Currently transgender people are barred from enlisting in accordance with Instruction 6130.03, a DoD rule that lists "history of major abnormalities or defects of the genitalia, such as change of sex [and] hermaphroditism," as justification to turn away able-bodied perspective soldiers.
"Leader Pelosi believes there is no place for discrimination in the U.S. Armed Forces, including on the basis of gender identity," Pelosi spokesperson Drew Hammill stated to the Washington Blade.
While gays and lesbians have been able to serve openly in the wake of "Don't Ask, Don't Tell" being repealed, transgender individuals are still constrained by a set of archaic provisions rooted in homophobia and trans-exclusion. Though the Obama Administration has expressed its support for an eventual review of the current DoD provisions, progress on the trans-issue has been non-existent.
"Leader Pelosi is correct of course," agreed Executive director of the National Center for Transgender Equality Mara Kiesling. "The outdated, discriminatory ban on open trans service is bad for trans people, bad for military readiness, and bad for America. We are 100 percent confident that open trans military service is as inevitable as the military bureaucracy that seems to have stalled progress once again."