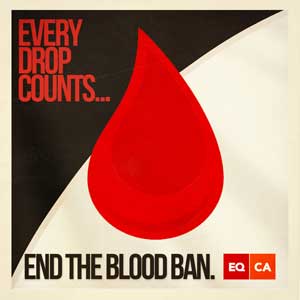 Equality California wants your help ending the gay blood ban: "This discriminatory lifetime ban doesn't apply to people who engage in high-risk activities, including intravenous drug use or who have unprotected sex with commercial sex workers. But it does apply to gay men who don't engage in high-risk behavior. This ban isn't supported by science, and is opposed by the American Red Cross, the American Association for Blood Banks and America's Blood Centers. They know that this discriminatory blood ban means that we're less able to respond to emergencies like natural disasters and terrorist attacks…Add your name to this open letter to publicly call for an end of the discriminatory, dangerous blood ban. Every drop counts. By taking action you're joining our campaign to end the gay blood ban and joining our membership."

Meet the world's first robotic, artificially intelligent toy for down below (Warning: work unfriendly).

Taylor Kitsch joining season 2 of True Detective.

Do How To Get Away With Murder's gay plotlines engage in bottom shaming? "It's amazing how much ideological weight can be carried by two little words. It would seem that in HTGAWM's universe, bottoming, despite the preparatory efforts and assumption of health risks it requires relative to topping, is not really "doing." To do—i.e., to be a true sexual agent; to not be a twink—is to penetrate. This evening, Oliver will "do" Connor (who will, as a consequence, apparently not be doing anything) both to obtain authentic sexual satisfaction and to punish Connor for being an inconsiderate fuck buddy. Bottoming is not a role one takes on willingly, but the price one pays for missing a date."

Boston Bruins hockey players dressed up as the characters from Frozen for a special Halloween visit to Boston Children's Hospital: "'I think they've been pretty surprised. There's not too many large girls like this…it's probably a bit mind blowing for them.' Dougie Hamilton, a defensive player dressed as Elsa, said about the visit."
In more cuteness news out of Boston, a budding member of Boston PD's K-9 unit tried on a bulletproof vest for size. 

Prince will perform an 8-minute long jam on SNL.

Marvel releases entire slate of "Phase 3" projects in its superhero franchise bent on global domination. 

Meanwhile, Ben continues sport his extra beefy Batman body.

Hugh Jackman treated for skin cancer for third time within a year. 

Rock The Vote: Cosmopolitan Magazine sending a bus full of shirtless male models to help get out the vote in North Carolina. 

One of the two teenage Denver girls who tried to run away from home to join ISIS tweeted anti-gay hatred in June: "Those who identify as 'gay' and 'Muslim' at the same time deserve death."

Pope Francis makes historic comments on the relationship between God, the Church and science: "God is not a divine being or a magician, but the Creator who brought everything to life," the pope said. "Evolution in nature is not inconsistent with the notion of creation, because evolution requires the creation of beings that evolve."

100 year old notebook from ill-fated expedition found beneath the arctic ice: "The book belonged to George Murray Levick, a surgeon, zoologist and photographer on Scott's 1910-1913 voyage. Levick might be best remembered for his observations of Cape Adare's Adélie penguins (and his scandalized descriptions of the birds' "depraved" sex lives). The newly discovered book also shows he kept fastidious notes, scrawled in pencil, about the photographs he took at Cape Adare."