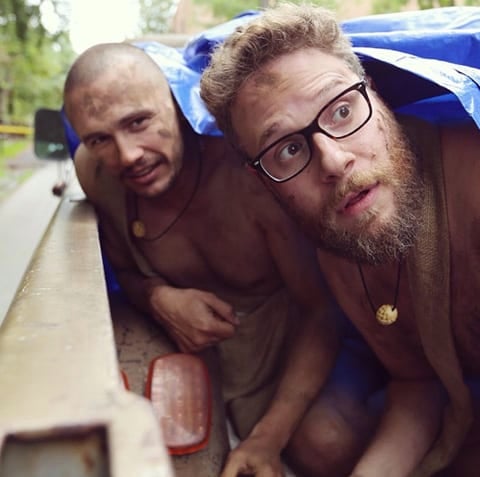 What are James Franco and Seth Rogen afraid of?
The bare pair showed some skin on Instagram this week along with Chris Salvatore, Miguel, Antonio Sabato Jr., Rep. Aaron Schock, Ashley Parker Angel, Brad Goreski, Ryan Cabrera, Idris Elba, Jack Falahee, Alex Minsky, Derek Theler, Terry Miller and Le1f.
Check out this week's guy candy, AFTER THE JUMP…
Rapper Le1f dressed down.
James Franco and Seth Rogen were 'naked and afraid':
Boom boom, NAKED and Afraid. Me and Seth, in the bush, naked, together. For reals.
See if me and seth can make it, NAKED and AFRAID!!!! Wtf?! You'll see……..
Terry Miller had a gas:
By @nunzilla. At #ARF! W/ @nark_magazine. I was the exterminator at this puppy night! 💉🐶🔫
Derek Theler had a hot dune buggy adventure:
See how it ends. #DuneBuggyAdventure @ochoachristina
Alex Minsky got painted in the desert:
@schwabelstudio #photoshoot #palmsprings #inthedirt 🎨 @trefor_proud 👨@csbfitness 💁 @charissa_littlejohn
How to Get Away with Murder's Jack Falahee is still holding on to his summer vibe:
Idris Elba showed off his sweaty training regime.
Training for my next Film. Bastille Day. Grinding.
Ryan Cabrera announced his comeback single with some help from Robert Pattinson and a bubble bath.
New Single. #HouseOnFire. November 4th. Plus the new RyanCabrera.com is here too!! Head over now and you can see the whole video 🙂
Brad Goreski couldn't get out of bed.
O-Town's Ashley Parker Angel wants to be a politician:
This is as low as these go before I officially pull an Anthony Weiner. 😜 #fitspo #workout #fitness #getfit
Aaron Schock butched it up in some Marine drag:
Challenged by cadets at West Point to complete the Combat Water Survival Lab which is their toughest requirement for graduation. The associated press describes it as "Perhaps the mother of all swim tests – Survival Gate # 4 – can be found at the U.S. Military Academy at West Point. Weighed down by heavy equipment, cadets must perform several tasks in a pool amid simulated battlefield chaos. Artificial fog, rain, and deafening noise are pumped in, darkness is punctuated only by strobe lights, and the water is churned by artificial wave makers." #almostdrowned #goarmy
Antonio Sabato Jr. proves his body can still rock:
Dancing with @cherylburke last night … Samba …. @dancingabc I got to tell you I had a blast .. Never danced before will continue to have more fun learn and just take you with us onto this amazing journey #thank #you #GOD #is #amazing #always
Miguel took an infinity selfie and then got in bed to preview a new track called "Coffee".
…soon. #artgang #liveartdealerchic pc @nazaninmandi #coffee
Chris Salvatore spent some time south of the border:
This hotel is paradise @mecancun! Who wants to get married on the beach? Cancun just made gay marriage legal!
Don't miss last week's selections HERE.