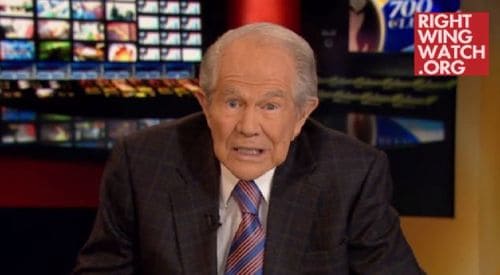 Reacting to the Coeur d'Alene, Idaho wedding chapel owners who have filed a lawsuit to prevent the city from enforcing it's ordinance prohibiting discrimination against gays, televangelist Pat Robertson warned the couple to flee the coming "onslaught of homosexual behavior" in the state or risk having to perform a gay marriage. 
Said Robertson: 
If I were that couple I'd get ahead of the curve. Get on an airplane and leave Idaho or get in your car and drive across the border into Montana. Get out of that state and if need be close your chapel down. Get ahead of it because this is outrageous. But I was afraid this would happen. The next thing you know it'll be a church…a church is going to be forced to do things like that.  
Of course, with Montana (like Idaho) falling under the jurisdiction of the Ninth Circuit and a hearing for summary judgement set November 20, the couple should probably hold off on opening up any bigoted business across the border too. 
Watch the clip, AFTER THE JUMP…
[via Right Wing Watch]