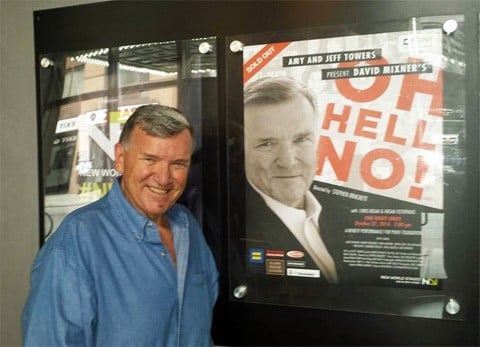 One week from today on October 27, longtime LGBT and civil rights activist David Mixner will take the stage at New World Stages for the world premiere of Oh Hell No!, a theatrical, autobiographical (and occasionally musical) one-man-show in which he will plumb the depths of his history to deliver a storytelling session that promises a few shocks, his signature wisdom, and a hefty dose of humor.
The more than $175,000 in proceeds from Mixner's show, which sold out in less than a day, will benefit The Point Foundation, an organization he has long supported. The Point Foundation empowers promising LGBTQ students with scholarships and enables them to achieve their full academic and leadership potential.
Mixner's activist role in numerous moments in our nation's social struggles — from anti-Vietnam efforts to battling California's Proposition 6 (which would have made it illegal for gays to become schoolteachers), to battling the AIDS epidemic, to the very public split with his friend Bill Clinton over the Don't Ask, Don't Tell policy, (the list goes on) — has given him one of the most fascinating and unique perspectives on the LGBT and civil rights movement you're likely to find.
I had a chance to sit down with Mixner, who is also a contributor to Towleroad, to talk about his generous gift and what he has in store for audiences.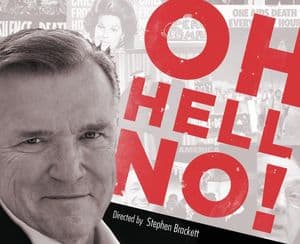 On September 27, you wrote on Facebook, "One month away and I am scared to death already! What have I done????" What did possess you to do such a thing and what about it scares you the most?
In February, I almost died in intensive care and I realized that so much of the history that I have witnessed over the last five decades hasn't been shared. Each day as another pioneer of this movement passes without an oral history we are losing a part of ourselves. What scares me the most is that someone will believe that my story is the definitive history of the LGBT movement. It is only about my journey and my recollections. I don't want to diminish anyone else's story or their differing memories.
How do you prepare for such an undertaking?
Practice, practice, and more practice. I have an incredible team working with me. Director Stephen Brackett (Buyer & Cellar) and Musical Director Mat Eisenstein are simply astoundingly talented. Producer Tim Ranney came up with the idea and the team at Point Foundation has been amazingly talented. I'm so proud that we have raised enough funds through this show already to send seven LGBT students to college for a full year!
Why did you choose The Point Foundation as the beneficiary of the proceeds from your show?
I love the concept of being responsible for the next generation of LGBT Americans. The Point Foundation is supporting some of the best and brightest of American LGBT youth.
What part of performing the show do you find the most challenging?
Without question, talking about my personal journey with HIV/AIDS and the loss of friends. It devastates me every time when I have to share publicly about it. Of course, there is the old fashion fear of falling flat on your ass in front of a powerful audience filled with friends.
Did you grow up doing theatre? Do you have any history as a 'showman'?
Actually, no. I did grow up on the old Southern/rural tradition of storytelling. My Grandpa Grove (aka Buzzard Bait) taught me the art and I was riveted by his stories. Storytelling was a powerful art form before the advent of modern media. Only once have I done a similar production, called "From The Front Porch", and "Oh Hell No!" is part two. Of course, I have a little bit of the 'preacher man' in me and I have spoken publicly for all my life.
Your previous show "From The Front Porch" – do you consider that a sort of preparation for this production or are they two separate things entirely?
After the first one, which was well received, I didn't think I would ever do it again. That one was off-off-Broadway at Dixon Place. After being critically ill and in February, I felt an urgency to get more of our history out to the masses. This one will be at New World Stages and is more elaborate in its staging. The two fit together almost perfectly as Part I and Part II.
What can people who were lucky enough to get tickets expect from this one?
Besides an entertaining and moving evening of storytelling, they have a right to believe that I will be honest, forthcoming and not sugarcoat difficult periods in our history. Actually, we could do ten of these shows and only scratch the surface of the stories that need to be passed on to future generations.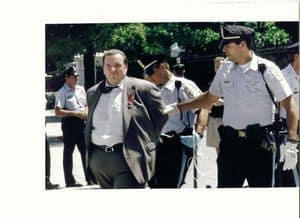 What parts of your show do you think will surprise folks the most?
Oh, there is no question there will be surprises. I plan on a very frank discussion of the dialogue I had with President Clinton and members of his team around the issue of LGBT Americans serving in the military. I have never spoken of these meetings before this production.
I will also speak for the first time about some highly illegal activities that I engaged in during the HIV/AIDS crisis. However, the art of storytelling is not about 'shock value'. It is about passing on knowledge in a funny and moving way.
And regarding your activities during the AIDS crisis, what do you hope to pass on to people via these disclosures?
What I most want people to remember is the astounding bravery, courage and dignity of the LGBT community and its ability to take care of our sick and dying without giving up on a fight for our freedom. It is an extraordinary moment in American history.
You have been involved in civil rights activism for more than four decades – how do you decide which stories you want to tell in the show?
Oh my God, that part of the process has been pure hell. There are so many powerful stories of courage, love, and resistance. When we did the original outline for this show of what we considered 'must tell' stories it went on for pages and would have lasted literally five to six hours. In the end, Director Stephen Brackett is the one who decided what had to go in order to keep it to 90 minutes.
You have spoken a lot about the older generation of LGBT people and the need to take down histories before it's too late – is your show an attempt to offer your own record?
Since we only have 90 minutes and it covers only a fraction of the story, I hope the show will inspire future generations and donors to move quickly to capture our history before my generation passes away. So many of us are near 70 or above and no one has taken most of our oral histories. How tragic would it be for our youth never to know the stories of the courage of their pioneers?
Which parts of our collective LGBT history in the last 30 years or so do you think have been neglected in the public consciousness?
Without question the period from the 1950's until 1980. When I visit with young LGBT Americans their knowledge about this period is so lacking. Also the more personal side of HIV/AIDS that illustrates how it was to actually live in that time.
Do you feel as though certain recent published histories of the LGBT rights movement need any correction?
You can't correct people's views or recollections. History is a funny animal. It is simply the knowledge that people have at any particular moment. Everyone has a differing view on the causes of war, governments and great events. How many different interpretations have we had on the Roosevelts and Kennedys? Was Act Up productive or counterproductive? There will be people who swear that my recollections, which are honest and painful to me, are inaccurate. My only response to them is to urge them to write away and share their recollections.
The show also features musicians and vocalists including Megan Osterhaus and Chris Bolan. What is their role in the show?
Music has been such a part of my life from the time we had to sing for courage in jails, to Woodstock. We will have four extremely talented Broadway stars sing songs to keep up that tradition and also to give me a little bit of a break. The songs won't be predictable and Musical Director Mat Eisenstein is creating some amazing arrangements.
What do you hope to personally take away from this experience?
Because of the energy, work and love of the entire team that seven of our best and brightest LGBT students will get a full year of college totally paid for by this event! Who needs anything more?
Find out more about Mixner's show at The Point Foundation and, if you're talking about the show on social media you can use the hashtag #MixnerOHN.
(top photo: Gary Belis)