The 9th Circuit Court of Appeals will lift a stay of their ruling striking down Idaho's gay marriage ban despite the governor's request that it be kept in place, and same-sex marriages can begin Wednesday, the Idaho Statesman reports: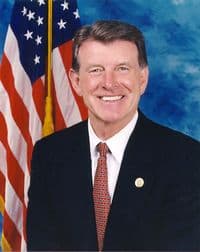 According to court documents filed Monday, the court's decision comes after Idaho's attorney general dropped its opposition to the stay. Meanwhile, Gov. C. L. "Butch" Otter maintained his resistance in a separate Monday court filing.
Attorney General Lawrence Wasden says his office, along with Ada County Clerk Christopher Rich and the state of Idaho, do not oppose lifting the stay. Wasden said that does not mean the state will not pursue further legal action.
Otter, however, repeated his prior arguments in Monday's filing, implying he will continue fighting gay marriage in Idaho.
Otter also added that approving gay marriage would "dissuade" Idaho voters from participating in elections because it would allow the federal government to overturn state laws.
Last week, the U.S. Supreme Court rejected a request from Otter to stay the 9th Circuit ruling.
Said Otter last Friday:
"The Supreme Court's order lifting Justice Kennedy's stay effectively allows same-sex marriage in Idaho as soon as the 9th Circuit directs compliance with its decision. I disagree with the court's conclusion, which negates the 2006 vote of the people of Idaho, is contrary to the values of most Idahoans, and undermines fundamental states' rights.  But we are a nation of laws. Idaho now should proceed with civility and in an orderly manner to comply with any forthcoming order from the 9th Circuit."
Read Otter's October 13 response HERE.
Read Wasden's October 13 response HERE.