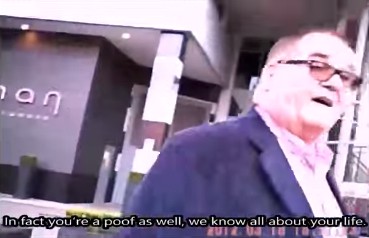 Mark Tilbrook, a skeptic handing out leaflets aimed at debunking UK-famous psychic Sally Morgan (below right) was harangued several months ago by the talent's husband, John (above), and son-in-law/manager, Daren Wiltshear. They did not stop at general un-pleasantries, though, instead attacking Tilbrook's sexual orientation and adding a few savory notes of homophobia for good measure. The two men claimed to know a great deal about the skeptic's personal life, calling him a "poof" and asking, "One of your boyfriends been up your arse?" 
Pink News reports:
Mr Tillbrook says: "I decided earlier this year to leaflet outside various psychic stage shows, encouraging members of the audience to ask themselves questions about psychic ability.
"My first three visits were to shows by Sally Morgan, and on each occasion her husband John Morgan approached me. I found him to be threatening and abusive.
"After being threatened during my first encounter with John Morgan, I felt it necessary to have a camera with me when leafleting, to record events and provide evidence of the threats I faced."
Tilbrook has reportedly received legal threats from Morgan. Those will likely stop, however, as Sally Morgan fired her husband and son-in-law following the release of Tilbrook's video. Pink News reported that the two men are no longer involved in her psychic act and are barred from attending her shows.
Sally Morgan said: "I have come from a family background that has always been very accepting, many of my friends are gay and I have always felt happy that I am often referred to as a gay icon through my work.
"I am utterly ashamed and devastated at the behaviour of my husband John and Son-in-law Daren and neither of them will have anything to do with my work, my business and right now I honestly have no idea what is going to happen to my marriage."
Good on you, Sally, though you'd think her psychic powers could have predicted that her husband was a jerk…
Watch Tilbrook's video of the events, AFTER THE JUMP…