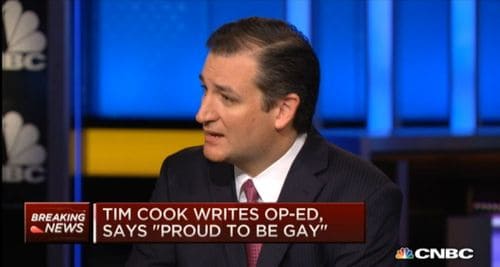 In a discussion on CNBC's Squawk Box this morning about the GOP and social conservatives, firebrand Texas Senator Ted Cruz was asked to weigh in on Tim Cook's newly minted status as Apple's openly gay CEO, The Hill reports
"Those are his personal choices. I'll tell you, I love my iPhone," Cruz said.
"Listen, Tim Cook makes his personal decisions, and that is his life. My focus is on the constitutional question of who has the authority to make decisions," he later added. 
Cruz, who has led the charge against the Supreme Court's gay marriage decision earlier this month and Houston's subpoena of anti-gay pastors, was also asked by CNBC's Rebecca Quick to explain his anti-gay positions.
Watch a segment of the interview, AFTER THE JUMP…