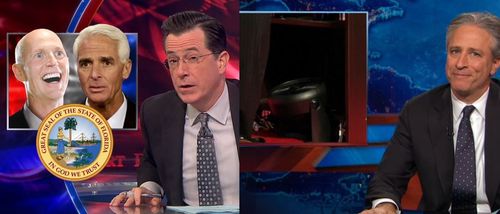 As anticipated, the Wednesday debate night snafu between Florida Governor Rick Scott and challenger Charlie Crist over the use of an electric fan was first-rate fodder for both Jon Stewart and Stephen Colbert – with the two late night hosts having a blast mocking the absurdity of the whole "fangate" debacle. 
Said Colbert:
"Folks, clearly for Scott's campaign last night blew – and, if you turn the switch the other way, it sucked. But the whole thing is unfair. I don't blame Crist for wanting to bring his own coolant – based on that skin tone I'd say his core temperature is about 450 degrees."
Said Stewart:
"Honestly, we could have delved into all the terrible, actual answers Rick Scott gave in the debate about his horrifying policies for Florida, but that is not nearly as fun as him missing four minutes of a debate because his opponent had a fan pointed at his balls."
Check out the funny segments, AFTER THE JUMP…
And if you happened to have missed the "extremely peculiar situation" from Wednesday's debate, you can watch that HERE.