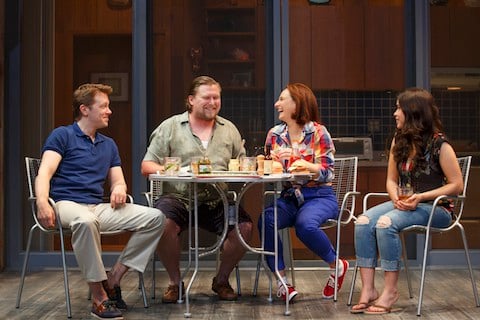 BY NAVEEN KUMAR
Fire Island lovers already nostalgic for summer will find themselves immediately transported upon entering Off Broadway's Second Stage Theatre, where a revival of Terrence McNally's 1991 play set in the idyllic Pines opened last night. The oceanfront deck (complete with infinity pool) is so lovingly rendered by designer Alexander Dodge, you can practically smell the sea-salt air and feel the cool relief of a cocktail against your lips. But don't get too comfortable: The dream home's occupants on this Fourth of July weekend are none too keen on the locals.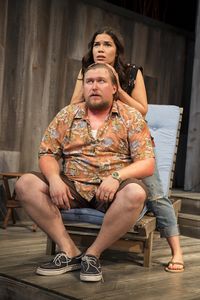 Sally (America Ferrera), a stymied artist with a 9-to-5, inherited the house from her brother, who recently died of AIDS. She and her staunchly salt-of-the-earth husband, Sam (Michael Chernus), are taking a holiday weekend away from their modest life in New Jersey to decide what to do with the property. Along for the stay are Sam's moderately hyperactive sister Chloe (Tracee Chimo), a community theatre actress, and her husband John (Austin Lysy), a private school admissions director, who live a bit less modestly in Connecticut.
As they enjoy typical, leisurely distractions (the Times' crossword, landscape painting, kite-flying, charades), audience-directed asides clue us into their inner conflicts and secrets. Sally is pregnant and fears another miscarriage; John has cancer; Sally and John once slept together; Chloe has an almost maniacal need to feel useful and Sam is, well, pretty much an open book. A dark cloud rolls in at the play's outset, as Sally spots a man swimming purposefully straight out into the ocean. She has a sinking feeling he won't return.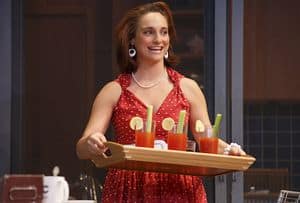 Neighbored on all sides by gay men, a group they neither understand nor accept, these are strangers in a strange but picture-perfect place. But it's their isolation from each other, rather than their surroundings, that takes up McNally's three-act story. Its focus on intimate drama allows the play's subtler reflections on deeply rooted homophobia and AIDS panic to resonate all the more profoundly. The characters' fear of mortality and desire to be known and loved parallel those of their gay neighbors, but most of them are too blind to see it—except for Sally, who wants so badly to try.
Director Peter Dubois does fine work bringing the play to a modern audience and orchestrating its talented cast. Chimoo is a standout as nutty, gabby Chloe, preening fearlessly like an exotic show bird confined to mundane, everyday life. As her younger brother, Chernus is a perfect fit, endearing us to Sam's unassuming bluntness and rough edges, thus making his casual bigotry that much more bracing and uncomfortable. Lysy is likewise well suited to buttoned-up John, whose range of bottled feelings finds sly and often sudden outlets. As sullen, probing Sally, Ferrera brings a sweet earnestness that at times only skims the surface of Sally's well of emotions rather than reaching for its depths.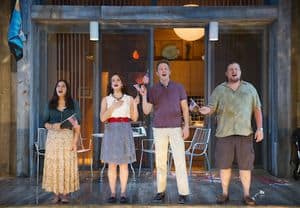 For a play set on Fire Island during the AIDS crisis, McNally's play is remarkably subtle (The Normal Heart it is not), and Dubois' production lovingly embraces its characters, despite their flaws. Their narrow-minded anxieties may have sounded closer to ordinary in the early 90s, but now they take on a certain shocking sting, particularly for a New York audience. It's a testament to how far we've traveled in 25 years. That they're not altogether unfamiliar is a mark of how far we still have to go.
Recent theatre reviews…
Josh Radnor, Gretchen Mol Open in Pulitzer Prize-Winning 'Disgraced' on Broadway: REVIEW
Matthew Broderick, Nathan Lane and Stockard Channing Open in 'It's Only a Play' on Broadway: REVIEW
'The Curious Incident of the Dog in the Night-Time' Opens on Broadway: REVIEW
Political Sex Scandal Comedy 'Tail! Spin!' Opens Off Broadway: REVIEW
James Earl Jones and Rose Byrne Open in 'You Can't Take It With You' on Broadway: REVIEW

Follow Naveen Kumar on Twitter: @Mr_NaveenKumar (photos: joan marcus)